Mindstorms & LEGO SERIOUS PLAY Methods: Agile Project Teams in Motion!
| | |
| --- | --- |
| | -This program combines LEGO® SERIOUS PLAY® with LEGO® Mindstorm robots, weaving principles of agile and lean to develop high-functioning & self-organizing team performance |

Prerequisite: Any one of the following courses:
LEGO® SERIOUS PLAY® Methods for:
or
or
Now with LEGO® Mindstorms® Robots and Creative Problem-Solving Processes, combined with Strategic Play® tools and materials all applied in a unique and powerful program that delivers project team results.
In today's fast-paced business environment, organizations in all industries and service sectors are forming task and project teams to get the work done. Everyone from healthcare professionals to marketing teams, IT teams, community leaders, and even public school teachers must help teams perform at their highest capacity.
Multidisciplinary teams are often developed to work on projects that are more complex, with constantly changing requirements. But how can we take teams to the highest level of functionality where they are equipped to:
Respectfully take full advantage of the talent on the team?
Make the best use of their resources (time, people, budget, operations, etc.)?
Use creative thinking to effectively solve problems faster and better, to find innovative solutions?
Use 3D creative tools like LEGO® SERIOUS PLAY® to understand team interests and talents, stakeholder interests & positions, visioning, and to plan strategy?
Gain the competencies help move multifunction project teams from the conception stage to the implementation of an action stage in iterative steps?
| | |
| --- | --- |
| | |
This training provides team coaches, educators, and facilitators with a ready-to-go program they can deliver to teach, coach, and facilitate better ways for teams to work together on project-based work. Research indicates that teams that are flexible, adaptable, and agile are more successful as they navigate messy problems in real-time, and that's why we have developed this hands-on, interactive training. The experience is so powerful, memorable, and applicable that learning goes immediately from the training room to the project floor.
As the facilitator/ leader, you learn to train "from the back of the room" and use teachable moments to coach a team to success. You provide the process and the learning happens organically as the project unfolds. This is a play-based, fast-paced program, where participants are 100% engaged as they work together to solve a real-world problem using both LEGO® SERIOUS PLAY® methods and LEGO® Mindstorms robots and materials. You will learn to adapt and design this core program to your unique environment to deliver your project based training workshop that will rock.
This training highlights leadership, conflict management, creative problem solving, and diversity of thinking all at once. You will see, hear, and do in this interactive program as you experience how to get a project done and done well, on time and with the resources available.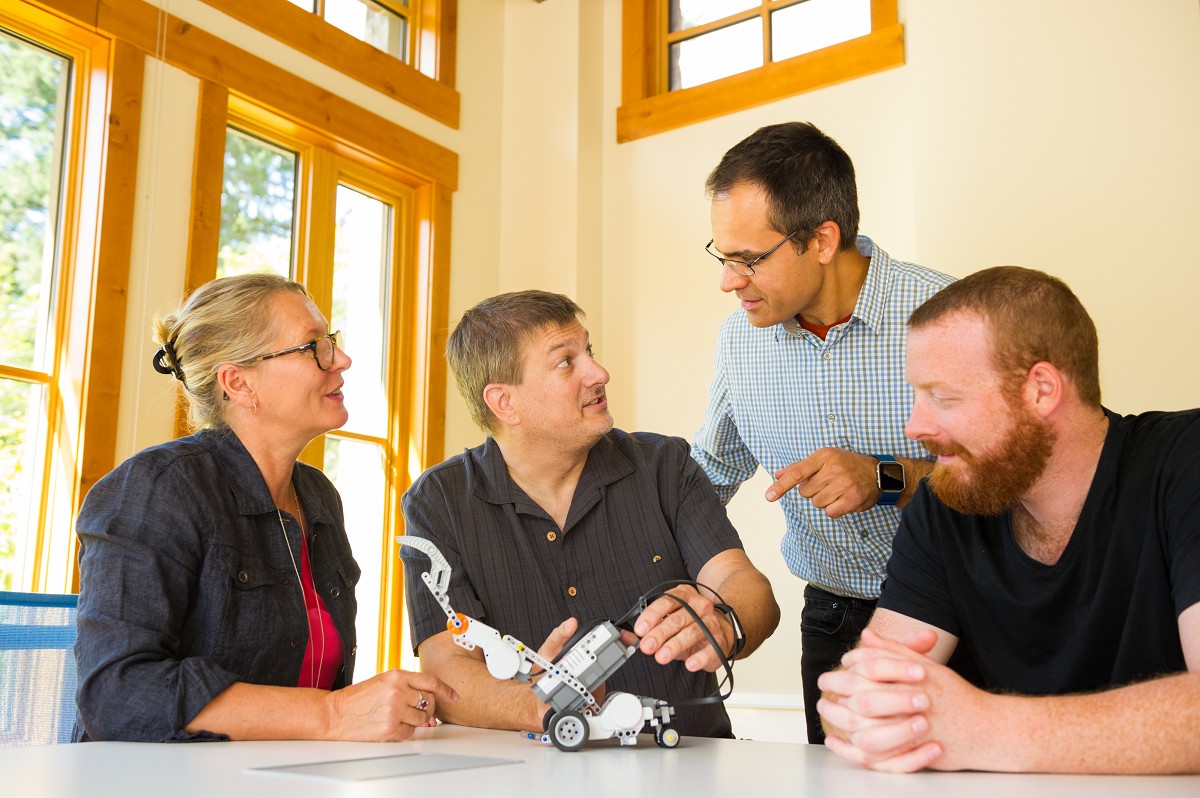 Get ready for the learning of your lifetime.
You get:
Insights into real cases where we have used the tools and applied them successfully inside organizations
A manual with the ready-to-go program including research articles
A set of your own Strategic Play® team LEGO® 3D diagnostic cards & book with great activities
Your unique innovation assessment to help you understand how you think when solving a problem, along with handouts and materials
Your LEGO® SERIOUS PLAY® starter kit of unique bricks
A professional set of photographs ready to use for your marketing launch
Helpful tips and tricks for kick-starting your professional program
Your certification, noting hours logged in training by a LEGO® SERIOUS PLAY® Licensed Trainer
Objectives your clients want you to help them reach for capacity building for 21st-century leadership skills!
Lead by example and use the circle of influence to contribute to team processes
Become a high-functioning team member
Use effective communication skills for critical conversations
Develop your team into a high-performing team
Manage change processes
Understand and measure risks
Apply agile, flexible, and adaptable thinking skills
Take responsibility, and step up and speak up with confidence
Engage stakeholders and motivate team members to perform at their best
Work and excel under pressure
Apply creative problem solving and divergent and convergent thinking appropriately
Evaluate and select work paths
Identifying the criteria needed for decisions
Think strategically when under pressure
Coach others to perform at their best in real-time
Work with project or product owners to manage scope creep
Present finished products
Due to COVID 19, this course is only available in-house at this time - but you can join the wait list now for the next open training: Add My Name
Where can I contact the organizer with any questions?
Complete your registration & certification requirements under a Licensed Master Trainer!

Strategic Play® Group Ltd. training has been approved by the
Global Federation of LSP Master Trainers
Email Us: We will respond within 24 hours!
North America Toll-Free: 1-888-238-2608
Globally: +1-604-972-0107