The 4th Annual Unconference and LSP meeting 2018:
Another Bold Hit!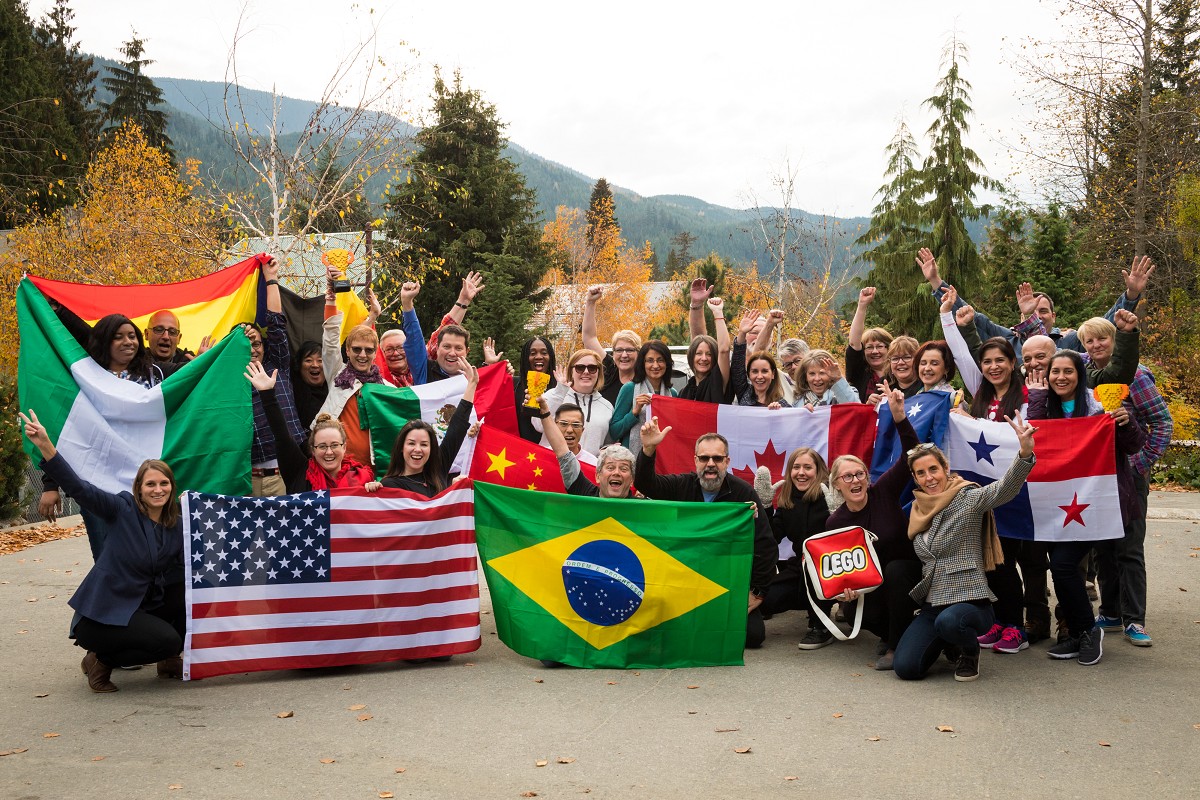 This year, once again, our community gathered in the Alpine resort village of Whistler to share ideas, connect, and build capacity. The amazing Nita Lake Lodge hosted us once again, delighting us with amazing food and drink to keep our bodies happy so our minds were fully engaged.
Like other years we ran this event in a true unconference style, where the only planned agenda items were Lunch, Coffee Break, and Dinner. The rest was up to the participants.
We launched the unconference this year by awarding our fist trophy to community member Melissa Dinwiddie, who collaborated with us and helped us to build the community network site. Yay Melissa! * If you were trained by Strategic Play Global, and you don't know about the community site - email us at hello@strategicplay.com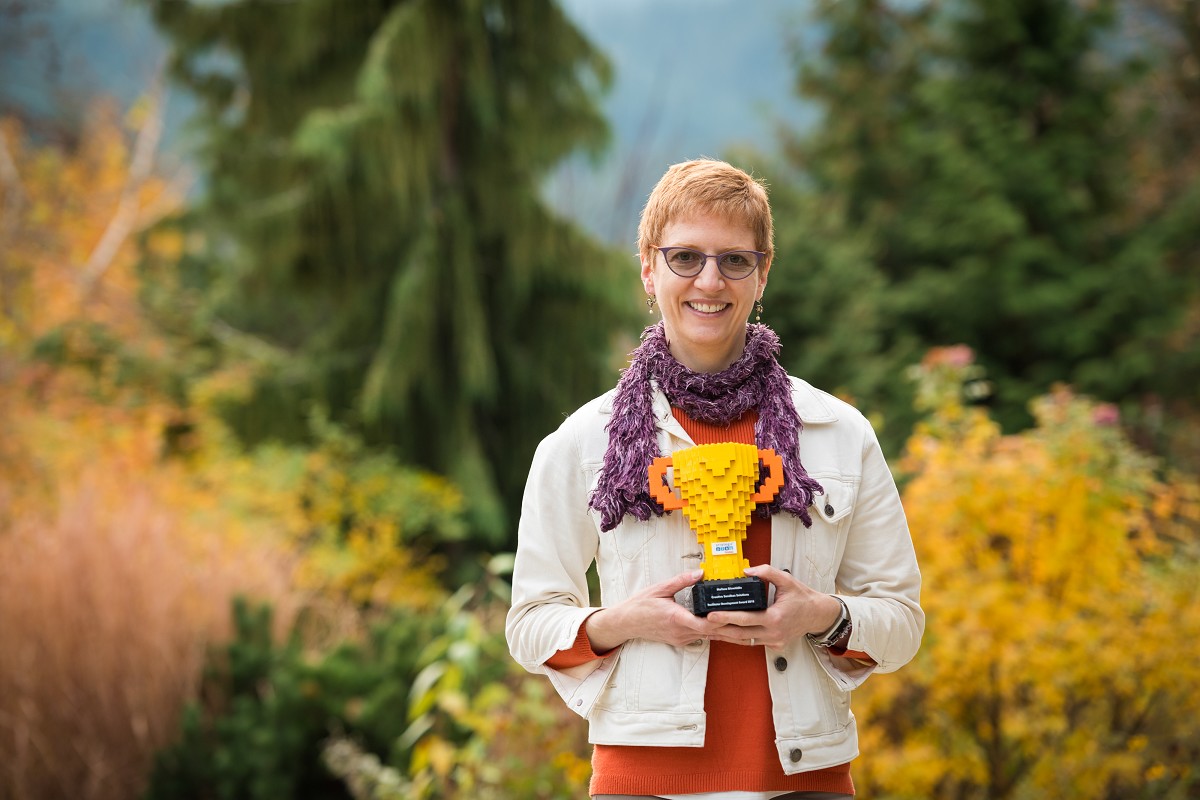 During the Unconference Our Community Members Presented:
LSP and Design Thinking
LSP and exploring nature
Everything Duck – LSP and the Duck builds
Micro Builds and Tiny Builds—no, they are not the same thing
LSP for building your financial health
How to position LSP—What are you selling, anyway?
Ask me anything with Steve (also called the kissing booth)
Psychotherapy and LSP with a psychiatrist -Dr Kas
Session Lab—online agenda building system
Welcome to the online community for trained Strategic Play and Play Strategy members
The launch of the new LOGO certified by the Global Federation of LSP Master Trainers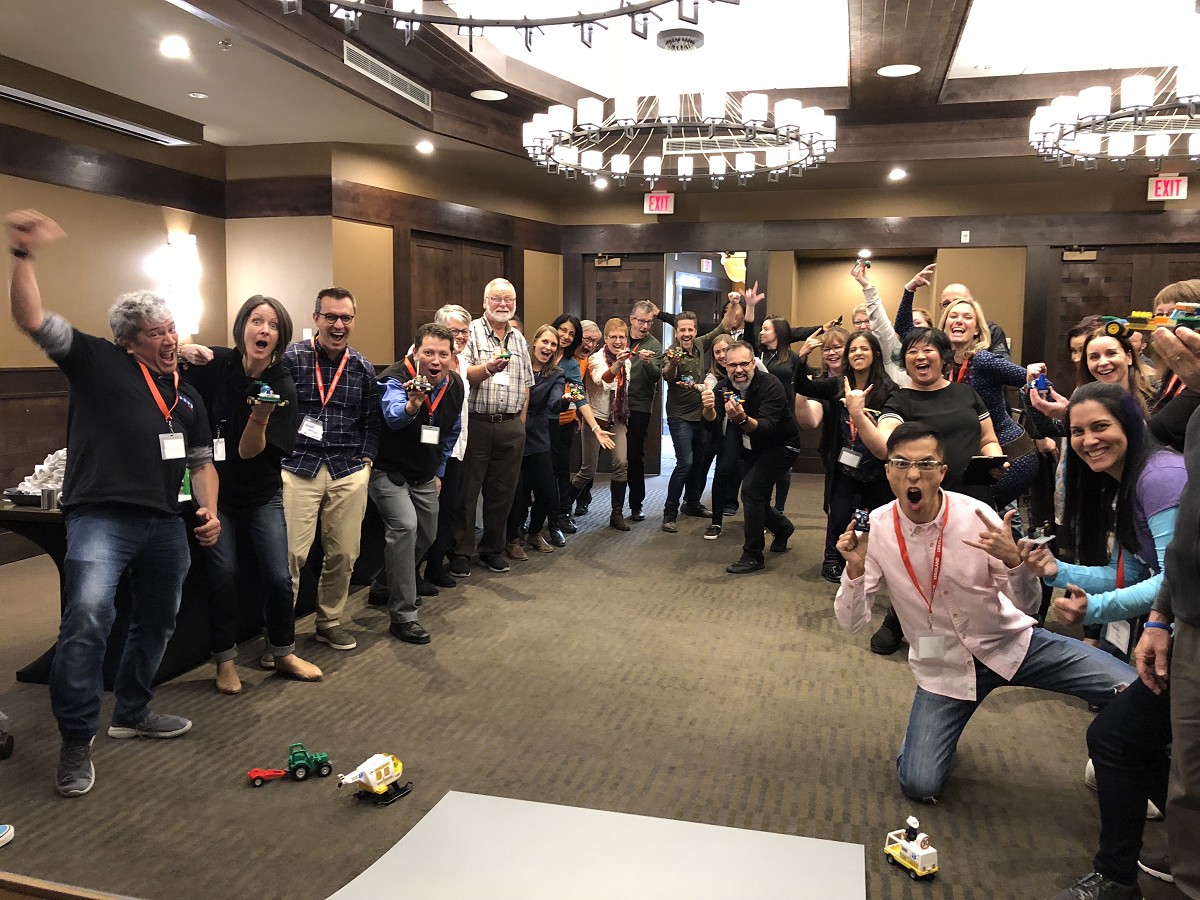 RACE CAR CHALLENGE - What's your team cheer?
We had a few extras this year to make the unconference even better.
We added a Toy Store/Bookstore, where participants were able to run a table to showcase their products and books. Items included essential oils (perfectly blended formulas for creative thinking), silk hand-painted scarves, LEGO jewelry and a variety of books, cards, and other creative treasures.
We added a Table Build where participants were able to free build with black and white LEGO that ended up being both beautiful and interesting as we created a 3D sculpture. We placed this table in the Atrium, and at any time anyone could add to the build we were all developing. This activity was a perfect (introverted) component to illustrate the innovation pause.
For the extroverts, we added the race car challenge where teams of two worked together, with building constraints, to construct a race car that would beat all odds (design, safety, durability, driving ability, and distance travelled). And of course, each team needed a cheer to set the stage for a great competition!
We even had an evening of Salsa Dancing, with lessons from the Panamanian Team. They are truly skilled in rhythm and are way more coordinated then many of us.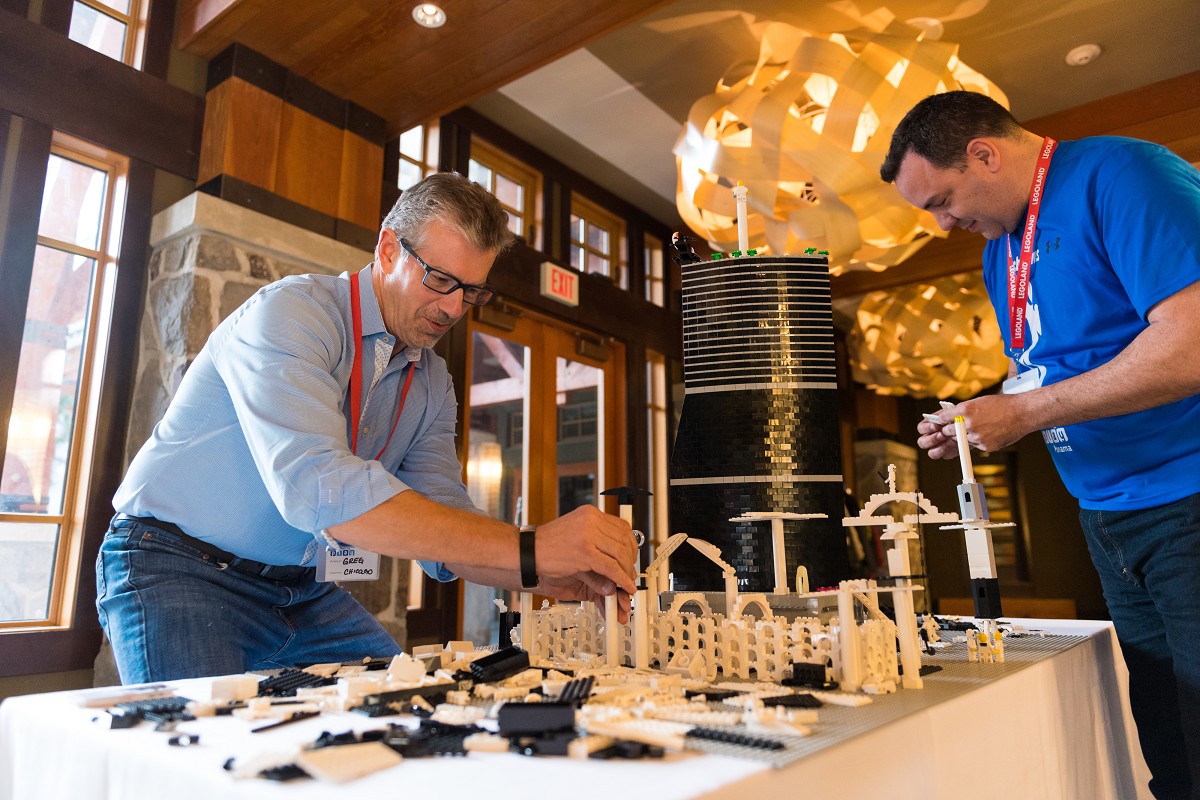 Mindfulness and Innovation in action!
** If you missed the unconference, we're really sorry—Canadian sorry, even! But don't worry, because the 5th Annual Unconference and meeting of the LSP facilitators will be here before you know it. Email us at hello@strategicplay.com and join our mailing lists so you don't miss a thing!