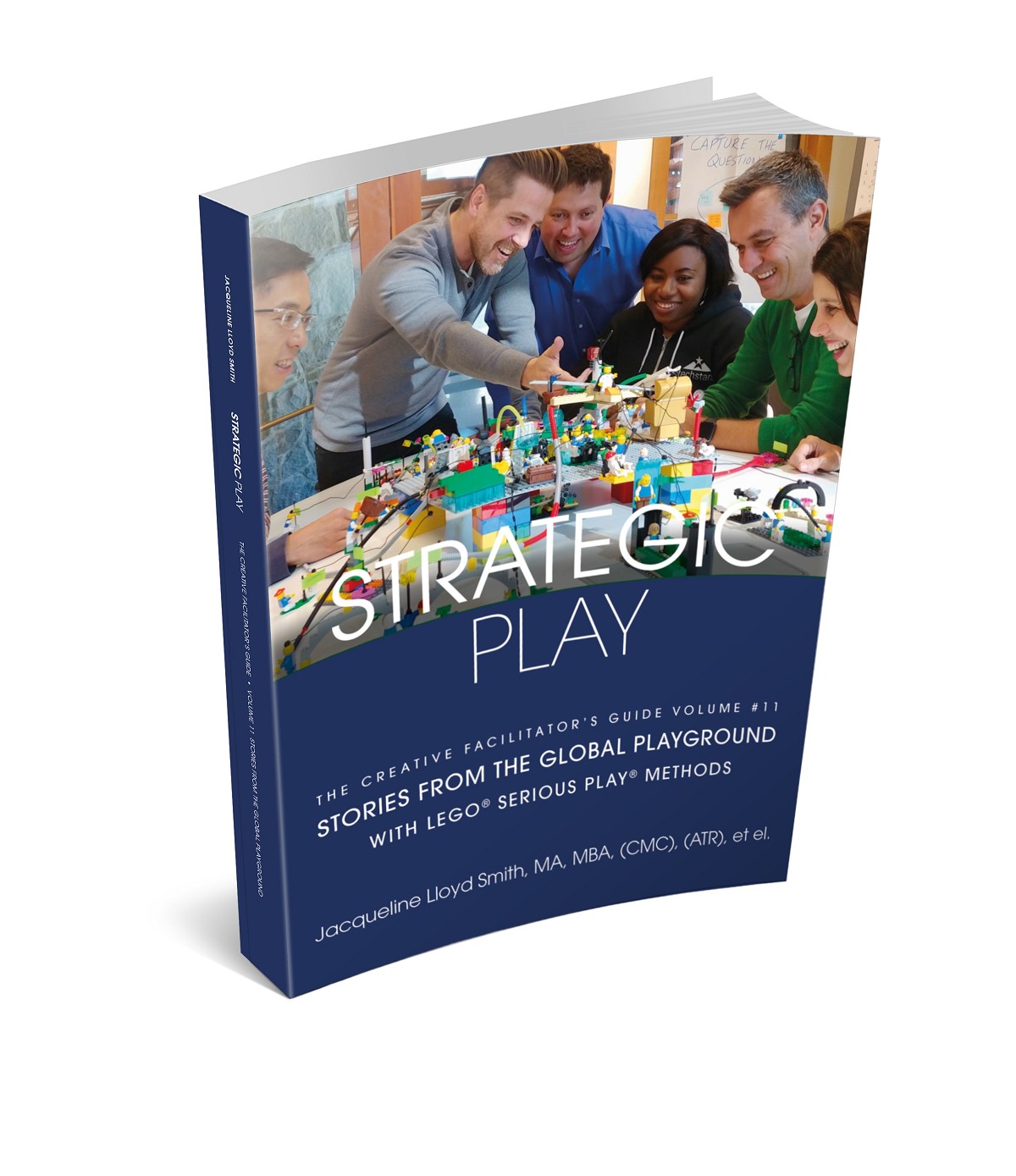 We have been busy! 2020 and 2021 have brought so many changes, it's hard to keep track of them all. The Strategic Play training team decided to use its lockdown time to work on some very important and exciting projects.
Stay tuned as we will be sharing more of our exciting news.
Today we are announcing our latest book: Stories from the Global Playground!
The stories span the globe, providing the reader with a unique snapshot of our experiences applying LEGO® SERIOUS PLAY® (LSP) methods.
The book starts in Denmark with an introduction of how the LEGO SERIOUS PLAY methodology was received at the LEGO Systems Group, where it was in fact an intrapreneurial start-up. A director of the LEGO® SERIOUS PLAY® division shares his story illustrating how it was tested and strategically spread around the world through the original distribution model.
Then moving through countries, in alphabetical order, the book takes us to Africa. Facilitators are placing LEGO SERIOUS PLAY into the hands of young entrepreneurs who are making use of the method to combat the country's lack of resources.
From Africa we go to Brazil. Here we see how people are using LEGO SERIOUS PLAY to build relationships, which is an important foundation of doing business in this creative culture.
Taking a deep dive into the Great White North we explore Canada where we learn how LSP has been valuable in building confidence for decision-making. This is significant when one considers the region has a more traditional and conservative approach to business and an aversion to risk taking.
In China, the book explores the power of the LEGO® brand while considering the challenges in a culture where the teacher is usually the person who has all the answers and play is only for children.
Then we go to Germany with a case study highlighting how LEGO SERIOUS PLAY is a powerful way to address conflicts and present new ways of thinking.
The next chapter is set in Mexico, where people like to talk a great deal in meetings but they are less keen to listen to others or make decisions.
From there we go to Panama. We explore LSP's introduction to the country and its amazing success in a surprising field: professional athletics. The chapter also touches on the barriers to the application of LSP with supply chain issues in South America.
We then travel to Spain where the culture embraces creativity, but in a very traditional sense. LEGO SERIOUS PLAY has managed to break through tradition in the areas of education and technology.
The last chapter explores the application of LEGO SERIOUS PLAY in the USA, where it is being successfully used to create psychological safety; in LSP, no one person is the expert and everyone has an equal voice in the process.
Some of the authors will be speaking at this year's EPIC Summit Conference (online), September 31 – October 3; the book will launch this November. We plan to have the book available in both digital and print formats.
"As a client of several Strategic Play facilitated sessions, both in government and in the private sector,
I have experienced how powerful the LEGO® SERIOUS PLAY® methodology is in building empathy and understanding.
Serious Play ultimately moves groups from disparate opinions and diverse backgrounds to common ground with a clear,
actionable path forward.
The book explores cross-cultural applications of play as an applied discipline of creativity and innovation
successfully curated to solve real-world problems.
This book is a must read for anyone who needs help to develop a workable
and strategic pathway in the face of formidable obstacles."
-Terry Rachwalski, MBA, CMC
Co-author of Business Diagnostics, 4th edition
Co-developer, Business Growth Roadmap