Podcast Guest: Dr. Steve Ralph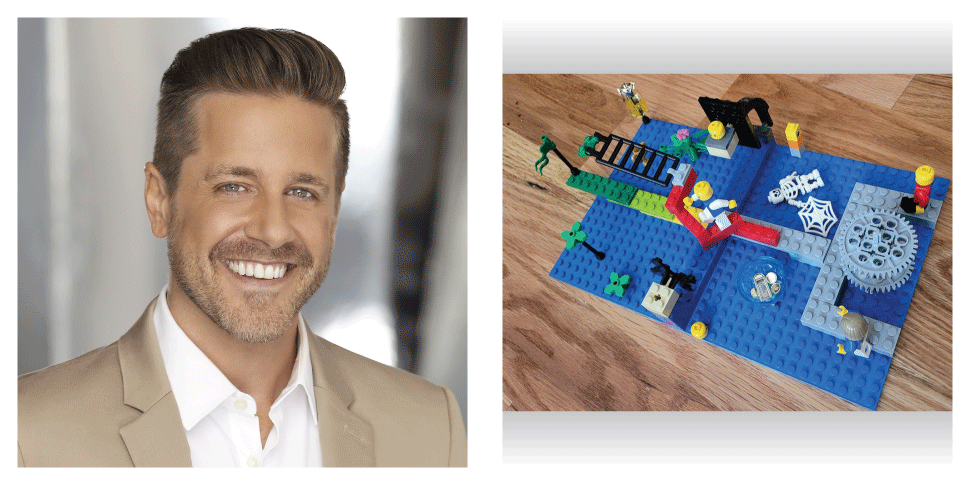 Dr. Steve Ralph is passionate about catalyzing ingenuity in those he comes into contact with. He is Founder and CEO of Open Ingenuity LLC, an organization focused on delivering customized creativity and innovation workshops and retreats for organizations. He is also Founder of the EPIC Impact Society, a non-profit organization promoting creative leadership through events such as the EPIC International Summit, a creativity and social innovation conference that has been recognized as one of the top 15 most innovative meetings in North America (Bizbash, 2019).
As a professor at Pepperdine University's Graziadio Business School, Dr. Ralph teaches courses in creativity and innovation, leadership and team dynamics. He is a licensed trainer and facilitator in LEGO® SERIOUS PLAY® methods, a certified facilitator in the FourSight Thinking Assessment and a coach, with training from Coaches Training Institute (CTI). Dr. Ralph's professional background has included business development and corporate relations roles in higher education, entertainment and non-profit industries.
Dr. Ralph earned his Doctorate in Organizational Leadership from Pepperdine University. He is a frequent speaker at international creativity conferences and is an active member of the Creative Education Foundation. Dr. Ralph's research interests are centered in creativity and innovation, with special focus in personal disruption, pause practices and the impact of exponential technology.
---
Read The Transcript:
Welcome to the Strategic Play Pod cast. Unlock Your creativity, expand your mind, and have good clean fun with Strategic Play founder and LEGO ® Serious Play® Master Trainer, Jacquie Lloyd Smith, and creative force and curious mind, Mark Millhone.
Mark:
Hello, Jacquie.
Jacquie:
Hello, Mark. So nice to see you.
Mark:
Likewise. I am so excited to share the conversation that we've had with Dr. Steve Ralph. He's the founder of the EPIC Impact Society, which is an extraordinary organization that leads amazing, cross-industry cross-disciplinary creative conversations. An extraordinary opportunity to be positively disrupted with thought leaders from a variety of industries. He'll talk a little bit about that at the end of the pod cast.
Jacquie:
He's really a leader in the field of creativity. And I think the fact that he has LEGO ® SERIOUS PLAY® in his toolbox, it's really positive for LEGO Serious Play to have that methodology in the hands of somebody that is such a skilled teacher, trainer, facilitator, and just basically a wonderful human being.
Mark:
In listening to this, you're going to get a sense of his brilliance in looking at disruption, how it's really a necessary part of our lives. And I love what he says about pause and how to create that for people. And I say to myself, if Dr. Steve Ralph can actually work in time for his own pause practice, then I have no excuse because he was one of the busiest people. I know.
Jacquie:
To frame this up a little bit for the listeners. So we asked him to build something out of LEGO , and he is going to use his LEGO model to tell us a story. So before we dive in, I just want to make it clear that in the LEGO Serious Play process, for those of you that are new, there are five steps.
The one step is that a question is posed, which Mark and I did. We asked him to build something. Then the builder uses the LEGO to create something metaphorical. Then he adds meaning to what he's building. Then the next stage is they share the story. And then the last stage is the questioning and reflective stage.
Mark:
It's a great conversation and I think you will enjoy it.
Mark:
All righty. Welcome Dr. Steve Ralph. Thank you for joining us for the podcast.
Dr. Steve Ralph:
Thank you for having me. I'm excited to be here.
Mark:
Jacquie, how did you and Steve meet? I always love these stories.
Jacquie:
Trying to think what year it was now, but we met—I remember it was in Buffalo at the Creative Problem Solving Conference, CPSI.
Dr. Steve Ralph:
Yes, I think it was around 2015. I was looking through the program and I saw this thing called LEGO ® SERIOUS PLAY®. And I had not heard of this before. And I said, okay, I'm going to check this out. How can you have—I think it was almost a whole day?
Jacquie:
I think it was a full day. Yes.
Dr. Steve Ralph:
Like how can you have a full day with LEGO ? That's what sparked my interest, and that's where we met and I was blown away.
Mark:
One day turned into the rest of your life.
Dr. Steve Ralph:
Yes, exactly.
Mark:
If there's one thing which really sets Steve Ralph apart, it's you're totally game for most anything. In my experience with you, it goes from inviting you into my office at Studio School and asking if you'd like to reinvent education, which was like, of course, you have to say yes to that question. Then the conversation continued and we were actually at a working film studio, so there was some disaster movie filming just outside my door. And Steve would just look at things with amused horror. And he would just like smile and laugh and roll with it. We thought that he'd be an excellent person to be one of our very first test subjects. I mean, guests, for the podcast. Leading up to this podcast, we have asked Steve to make a LEGO sculpture. What was your prompt for this sculpture?
Dr. Steve Ralph:
I was asked right, as far as building a LEGO model, that represents how I use this methodology in my toolbox, working with other people. And so this is my creation.
Mark:
I'll ask Jacquie to take it away and guide you through the meaning-making process that you had in the making of the sculpture. For those listeners who would appreciate a visual reference, pictures of Steve's model will be included in the podcast notes.
Jacquie:
All right. So there are lots of little bits and pieces here that I know probably every single piece of LEGO has some kind of important meaning. So I'm going to start by asking you, Dr. Steve Ralph, where are you in this model? Can you tell me where you are?
Dr. Steve Ralph:
Interesting question. So I am actually, if you see here in that border that's separating each side of the larger plate. There is a little fan, like a little propeller, that's symbolic of how I see my role when I look at using LEGO Serious Play as a methodology. And I can take you a few steps back if you want me to explain.
Jacquie:
Absolutely. Go for it.
Dr. Steve Ralph:
Okay. So when I think of LEGO Serious Play as a methodology in my tool kit, I see it as a disruptive tool. Okay? So that's how I view this. And that's what this model basically represents. And I used color to represent some interesting dynamics around this. So on that one side, there's like a gray pathway. You see these people walking, there's those gears. What that represents to me is functional fixedness or how we approach things the same way. It's very—there's certain ways we've done things. We keep doing that. We keep in that rhythm. We keep approaching problems the same way we keep on that pathway. But then you see there's, once you leave that section and you go across what looks like a bridge, skeletons, and the bowl of money and a couple of those other things. What that phase right there represents: the myths around creativity.
And that is basically representing the journey that I have to take people on when I use LEGO Serious Play. So starts out people approach, this methodology. Then I take them on a journey where we have to debunk those myths. So the skeleton represents really getting over yourself and your past experiences and your fears of approaching anything with creativity.
The money represents the myth that you need a lot of money and resources to be creative. I get that a lot where people feel like they don't have a lot of resources, so they may not be able to be creative when we actually can see that constraints can actually make us more creative. That one solo LEGO head that's in the corner there, that connects to a myth that's out there that to be creative, you have to be alone. It all comes from one person. I've seen it being termed as the Lone Ranger myth, right? When creativity really thrives with collaboration. And then the far side, you see that pedestal with an eye kind of represents one of the myths that only a select few are creative, the high and mighty. If you were endowed with the creative gifts, then you have it, which is a myth because we're all born creative. So that's representing the journey, taking people from breaking them out of that kind of fixed mindset, breaking or debunking some of the myths. And that bridge, that kind of awkward ladder type bridge, that represents the disruption.
And then that's where my role, I think, comes in. That's represented here because when we have, in my experience, when I've used LEGO Serious Play it's always that deer in headlights look if it's a surprise thing. If I use it in a workshop or in a class situation, people are like, "What? I'm playing with LEGO?"
And I love that moment because, from that moment to the end of the process and the exercise and experience, it's just the light bulbs go on. So that red kind of rickety bridge there represents the disruption aspect leading to the ladder, which is the leap of faith to actually go through the process, trust the process.
Okay. That one figure with the head there, it looks like a basketball? That was my representation of reflection, looking in the mirror. Because a lot of when we do a Serious Play is looking at where you're at as well, your story and storytelling. And the propeller there, Jacquie, to answer your question. That for me as a, either a facilitator or a trainer, would be to just encourage people and be a breath of fresh air to in the process as they're going through this kind of disruptive experience.
Jacquie:
Okay, great. So it represents just how you come in and maybe even some of the energy that you bring into that conversation. Okay. So I'm going to ask you a couple more questions about this. So I see the ladder that's attached to the red path that the Minifigure is walking on. And under it, and I don't think it's attached to a ladder. I think it's on the blue baseplate, but it looks like there is a trophy of some sort. Can you tell me a bit more about what that represents? What's your thought on that.
Dr. Steve Ralph:
Yes. So everything on that one side of this blue plate represents growth. So that's why you see the palm tree figure, the plants. And to me, the trophy is that you actually reached a point where you believed in yourself. You believe that you're creative and you got to that next stage.
The other, the fading colors that are from yellow to light green to dark green to the flag. If you notice, the flag goes beyond the plate. That is breaking boundaries for me. I think one of the most powerful things is when somebody actually makes that connection that I am creative and I have the tools to know how to have the breakthroughs to solve the challenges that seem impossible, or I have the tools to achieve those opportunities that I've always wanted. And so that pathway going beyond this baseplate represents that: the breakthrough outside of the lines
Jacquie:
Okay. I see that there's a, I think it's a crown and a clear yellow piece that's on the flag pole. Were you thinking about anything specific around that or did that just also represent growth?
Dr. Steve Ralph:
It represented growth and then I guess just embracing your identity. I believe everybody has unique gifts and abilities and talents and they're creative. And I think we're sometimes our own worst enemy. And so when we get to a point of actually believing in ourselves and that we have resources to help us solve problems in creative ways, I think that is very empowering and powerful. So that's why I had that piece there.
Jacquie:
All right. Super. Okay. I'm going to ask you one more question then around this. The question we posed to you was: How do you use LEGO Serious Play in your tool kit? And you have really created the disruption model of changing mindsets and maybe changing minds. And you've showed us how you see yourself in that process.
This would probably be a big chunk of your work. Is that true? Do you see this as your life's work? Maybe not LEGO Serious Play, but what you have depicted in the LEGO Serious Play story here.
Dr. Steve Ralph:
I think you're right. It's funny that you say that because to me, this tells a story of building creative confidence and the LEGO Serious Play is displayed here for that in this model. But yes, I think now that I—you mentioned that when I look at my life's work, that's what I feel very passionate about is to build creative confidence in others.
Jacquie:
Okay. That's great. All right, Mark, did you have any questions before I jump in with my next question?
Mark:
Not any questions, just an observation. I love how part of what is figured here is identity, that identity is something that you grow towards. It's the idea that we are not a fixed thing but a process towards some potential. There's a favorite phrase, which I'm going to apologize in advance for repeating multiple times over the course of many podcasts because it keeps on coming up.
But Annie Dillard, who's a writer probably best known for Pilgrim at Tinker Creek. She spoke of writing as following a line that you draw in the sand. And there's something self-reflexive and iterative about that, which I love about the LEGO Serious Play work in general, that you take a step forward and you are both leading and following at the same time.
You're following a line that you are creating. And I love how part of where this model arrives at is that a sense of a true north or a true self that is potential and is there to be manifested and then step to beyond in terms of the model that you've come up with.
Dr. Steve Ralph:
Awesome.
Jacquie:
Yes. Great quote. Some of those quotes are so thought-provoking that I think they're worth saying repeatedly. So you can say it as many times as you want. If you have a need to tell us that quote again, go for it.
Mark:
Be careful what you wish for.
Jacquie:
One of the things I'm really curious about, and I'm going to ask you this question and you might not have an answer, but you may definitely have an answer. I'm not sure because I don't think I've ever asked you this before. But your dissertation and what you were researching was basically the practice of pause and a pause practice in the whole field of creativity and how people have used that to maybe get in touch with their creativity or reflect on their creativity. Am I articulating that correctly, Steve?
Dr. Steve Ralph:
Yes. You're definitely on the right track there. Yes. So my research area, my doctorate program, was exploring the relationship between the practice of pause for leaders and creativity training with the backdrop of a world of information overload. So looking at the relationship between pause best practices and creativity training for leaders.
Jacquie:
Okay. So then here's my question for you: When you look at the methodology of LEGO Serious Play, which I know that you know very well, how do you think pause practice, or how does pause play a role, let's say, in the LEGO Serious Play methodology? Either in a build or in a workshop, or how do you see those things going together or do they?
Dr. Steve Ralph:
Yes. When I'm talking, when I'm looking at pause or the practice of pause it's really finding some type of activity, something where you step away from the daily grind to gain perspective so that you can lean forward more decision-making in a more strategic way. And that's why I put that one LEGO piece there of—it was almost like a mirror reflection because there's moments. It depends on the type of build, but there's moments of reflection. There's moments to, in the whole experience of the workshop, if there's background music and it's more of a reflective space where you can just start to put pieces together to build something and reflect on whatever the topic is.
And so I think there's an element of pause there. I think what I love about LEGO Serious Play is the unplugged portion of this. So I think when I'm looking at pause, it's definitely stepping away. And if it's structured right using LEGO Serious Play, it can be pretty powerful.
Jacquie:
Okay. I'm going to quote somebody now. A couple of, I'm going to say months ago, but now I'm thinking it might've been last year. I did some—I had an opportunity to do some work in something called Space Force, and this was for the U.S. Air Force. And I was on the team with a fellow named Daniel Hulter.
Mark:
Is this a real thing? Space Force?
Jacquie:
No, it's a real thing. Space force is a real thing. We were doing designing space. We were using LEGO Serious Play. I'm hoping that we can get one of those folks on the podcast, but…
Mark:
Space Force!
Jacquie:
Sounds very Star Wars-ish, but it's true. So Daniel Hulter, who was a lead learner with me, made a comment about the fact that we don't really take time to think about how we think. And one of the things that I think that LEGO Serious Play gives us a chance to do is to really think about how we think about things, which is definitely a reflective practice. And when you talk about the build, I almost think within each build, perhaps in the construction stage, when you're trying to use the LEGO to build metaphorically a story, you're really searching as you're giving meaning. And I think that once you build your model and then you story tell, I think there is this, as you say, Steve, the mirror, the reflective practice with the mirror, because what you're actually doing is you're trying to build something in 3D that will tell the story of something that you were thinking about.
But it's only in that moment that you were really thinking about how you were thinking about it, because now you have to build it. And it's not like we go around building things every day that we build our thoughts. We just don't build our thoughts. And so I guess I'm just wondering when you look at the LEGO Serious Play process, if you feel that the act of building could also be part of that reflective process. That could perhaps be a key to why it's so successful?
Dr. Steve Ralph:
Yes. I think so. The fact that when we talk about the flow zone, when we're building and just getting in that place where you're putting pieces together, you're making those connections. Again, I'm a firm believer in the entire experience when you're setting up a build, like the background music, the space, how you frame the build and also the culture in the room.
I think that's really key, psychological safety, all those things. If you can get those elements into place, I feel like the possibility of having a constructive pause moment with LEGO will be powerful. But if you don't do the prep work as a facilitator or a trainer to do that, I think it's really—there's some hurdles there because then you have fear of like, what, I'm going to build stupid.
Or a lot of stuff that comes with approaching the methodology, maybe for the first time or it's been a lot of years since you've built with LEGO . But I think if you have those elements in a place, then you're able to have opportunity where you can use these building models where it's a pause and reflect.
Jacquie Lloyd Smith:
I think that's so important, what you just said about setting the stage. I think that often in the world of creativity, we sometimes add a lot of noise. And I'm just thinking about some conferences or workshops that I've gone to where it's almost overstimulation. And I think that you're really talking about how the facilitator needs to be thoughtful about every element, which could include the temperature of the room, how comfortable are the chairs, how much space is between participants, how much light is in the room? Is there access to the outdoors? Is the music reflective? All of the things that we can build in that are kind of maybe invisible to others are also what create that physical opportunity for there to be a moment of reflection, which we're just so missing in our day-to-day life.
You talked about information overload. And really by stopping what we normally do and playing is really one step toward doing something quite different and giving our ourselves the time and space even to allow ourselves to step into that world of play. But as facilitators to be thinking about how we facilitate that process is really what you're talking about.
I really do think that is such an important component. And really, we need to be mindful as we offer up this play space that we're thinking about meeting the needs of people that are probably unarticulated. Because no one's going to ask for that. No one's going to go, "Hey, I really think you should play reflective music." No one is going to say that. And maybe they don't even notice that you're doing it. I's just provided that space in time.
Dr. Steve Ralph:
Yes. I really believe as a facilitator in LEGO Serious Play, you're like an architect to design this experience. And so a lot of thought needs to go through pacing flow. You mentioned natural light. All these things come into play. When I did my research for my dissertation, I interviewed creativity experts in North America. And one of the things I've found out was—one, I wanted to find out if they had a pause practice. And second, if they did, what were some of the common elements and how did that translate into the actual trainings that they have for leaders? And so what I've found is that basically everybody had a pause practice, something that they did where they stepped away from the daily grind and energize them.
All of them had something connected with the outdoors. And then mostly everybody, except for one person, had an unplugging from technology. And the only person that used technology was somebody that had a meditation app, so I found that fascinating. But then looking at how did they incorporate pause within workshops for leaders, some of the things that really came into play were some of the things you mentioned. For example, finding a space that has natural light, finding a space where it's really accessible to the outdoors for breaks and for conversation.
And so all these little pieces. I believe, need to be thought in to a LEGO Serious Play experience because then it sets the stage for a really deeper and richer reflection, interaction, I think in growth moments just for everybody involved.
Mark:
I think from an educator's perspective, that's so fascinating because looking at your model here, we have the fan of disruption. And if you look at, well what is it that needs to be disrupted? And I think that the pause itself is a mighty disruption. Part of what we're needing to do is to help people reconnect with their native intelligences.
And I'm using that as a plural very much on purpose because we have a cognitive intelligence, we have an emotional intelligence, and we have a kinesthetic or somatic intelligence. We have ways in which we're used to or we're evolved to engage with our natural environment to take in information, to process things, things that we may only be aware of as hunches or intuitions.
And in terms of what's being disrupted, do you have to look at the educational systems that are really predominant, particularly in this country, which are all about getting you to disconnect from your body? It's essentially, you're put into a place. There's rigid timelines. There's rigid grid lines in terms of where you're supposed to sit. It really comes out of a model for education that was generated in the last century to help create efficient factory workers where the fundamental training was to overwhelm and shut down your connection to what you wanted to do with your own body.
You had to show up, be in a factory, take instructions, pass instructions along and just be a cog in that machine. So I think, especially when we ask people to step into this work, it's going to be foreign initially. It's going to be something quite different. And I think that the things that you're bringing forward in terms of making it a peaceful and Pacific space in which to reconnect with themselves, their world, their native intelligences. It just feels really important to see the pause not as a nice to have but a necessary disruption for this kind of work to proceed.
Dr. Steve Ralph:
Yes. And I think that as our world becomes just more tech saturated; and again, there's a lot of amazing benefits of technology. But I think that the question really comes down to, are you managing your devices or are they managing you? I think that's, with everything and with the way when we look at—pause is going to be more important as time goes, to step away. And Kevin Cashman has a wonderful book called The Pause Principle that talks about that. But I think one of the things that I would say is that with LEGO Serious Play, it's very unplugged. And I love that because it helps people take a step away.
And I have a funny example of a situation where I was asked to do an hour, just a lunch and learn at a company. And everybody showed up with their laptops. I had to chuckle because everybody was serious with their laptops. And then by the end of the hour, they're playing with doing builds and they were like laughing. And the energy in the room was just upbeat and they didn't want me to leave. And it just shows, you know what I mean? Just when you have those moments to unplug, to pause, to play, but in a constructive—there's design behind it. It just helps people bond. It helps people tap into their creative thinking. You end with such a high positive experience. And I just feel like as we move forward, this is going to become more and more valuable because we're going to need to have those unplugged experiences. And to have something like this, which is a creative tool, is, I think, going to be quite good.
Jacquie:
Okay. I think it's really interesting when I look on, even watching TV or looking at just large companies' ad campaigns, everybody seems to be on this mental health bandwagon: Mental health. We need to talk about it. It just seems to be a lot of people that are very wanting to help others but maybe don't really know how to do it. And when I think about the things that we're talking about right now, this whole idea of the pause practice, the being able to go outside, the chance to reflect, these are human needs. This isn't nice to have. Like Mark said, it's a must have. And yet people don't recognize that to the point that I think most workshops and offsites often are held in rooms that don't have windows, like in the basement of a hotel. Or the boardrooms are usually put right in the middle of the building because they don't "need windows" or access to the outside. And yet what we've realized is that those kinds of places don't help people concentrate. They help people rush to the first answer that comes to their mind versus what we're talking about.
Because really, if you say why are you doing this? Why do you want people to play? Why do you want them to reflect? Why do you want them to take a break? All of this is really so humans can work at their peak performance. And I think that's really an interesting argument that needs to be made by people like us that really do understand how this then turns into value for corporations.
Because if corporations could understand that by taking time to do these things that we're talking about mean that they're going to have healthier employees. They are going to have employees or people, team members that work better together that get to high-performance faster that come up with better ideas, solve problems quicker that are basically just functioning at a much higher level that then people will take maybe notice us. But otherwise, this stuff that we're talking about might just seem this doesn't sound like work. This just sounds like something that sounds more like a recreational activity.
I think that we really do sometimes need to make the argument. It's like the argument for play, the argument for pause, the argument for disconnecting. Those arguments need to be made. Those voices need to be louder because these are the things that I think are going to bring us back to perhaps a more healthier place for us to work. The answer is definitely not in the latest app.
Dr. Steve Ralph:
No. And here's the thing. When you have leaders of organizations saying, "We need more innovation. We need more innovation." The feedback I got when I was doing my dissertation, is that when people were trying to implement some type of break or some type of pause in the schedule, the client would be like, "No, that's a waste of time." And what's interesting is creativity and innovation are not the same thing. And I get this time and time again is people lump those two words together. They say that they're the same thing. Creativity is novelty, something—it's novelty that has use for value, right? Something new that has use or value. Innovation is a process of putting that novelty that has user value into practice.
Step one, creativity. Step two, innovation. You can never have innovation without creativity. So you have to honor the creative process. And so there's all these dynamics that go into the creative process. And so if, as we're all witnessing, everything's shifting and businesses are being disrupted, to be the disruptor I think leaders are going to really have to embrace and honor the creative process, which includes what we're talking about, right? The aspect of allowing for incubation, allowing for pause, allowing for creative tools and methodologies to spark ideas. Otherwise it's just, people are going to get burned out and they're going to have the pressure of innovation, but they're not going to have the creative space to get there.
Jacquie:
So this is a red thread that I try to draw, and I would love to hear if I'm missing a step. But this is the way, because I have to make an argument for play. That's my thing. So I start off by saying that humans are born naturally creative. They learn through play and as we learn through play, what we're really using is our creative imagination.
If we can hang on to that creative imagination, that is what will allow us to imagine things in new and different ways, which is connected to problem solving. And then it's problem solving, which comes from that whole creative thread that drives us into perhaps this innovative process that comes at the end are those innovative results.
So I'm saying the argument for play is that's what we did first. Were we creative first or were we playful first? I think they're really connected. I think we play with creativity and we are creative in the playful act that we first do, even without knowing that we're doing it because it's given to us. It's a human quality that two-year olds have it. They're not taught it. They just know how to do it. And then that's what they use in order to gather information and to learn. And so when I think about adults, you're right, we just jumped to that last step. And we're like, we need more innovation, get innovation in here, but really people don't know how to get to that point. They just demand the results.
Dr. Steve Ralph:
Yes. It's creativity on demand right now or innovation on demand. But the thing is, as we move forward in our very automated world and the question I get a lot is robotics, AI, replacing jobs. Robots can replace a lot of things, but something that's uniquely human is imagination and creativity.
So that's going to be highly valuable as we move forward as a lot of things are automated and robots are doing other functions. So I think the more people have the opportunities to build their creative confidence and to tap into that and have playful experiences. When people are in the play mode, stress levels come down. There's more free flow of ideas. People collaborate. There's so many positive benefits. And then when you start to redirect that towards problem solving or different areas, you have trust built. I keep going back to the trust and psychological safety, because I try and tell my students it's foundational.
If you don't have that then culture is going to be a struggle. And then if you have that struggle, how much of your energy is going to spend on worrying about if you're going to have a job versus pushing towards being creative and innovative in your company. If you have a psychologically safe culture, you can use that energy towards innovation. So much of it is connected to the culture.
Jacquie:
And I think that often when I go into a workshop or I'm doing an event there's a history. Everyone knows everyone. And so you're almost trying to get them to unlearn in that moment and to let go and to experience this new level of trust. And we would never say, "This is trust building," because that's annoying. If somebody said we're going to do like this trust building activity and right away, I'm suspicious. But if it's just something that I start to trust people more on a subconscious level because they're telling me more about themselves and they're revealing more about themselves, which then I can then see the connection between me and that other person.
So then I start to feel more empathy for them. And this kind of organically seems to happen without it being superimposed upon me that I now have to trust someone. I think that is one of the magical things that LEGO Serious Play can bring. I think that when I think about you teaching at the university, you might have a bunch of new students so you get to create that right from the beginning, which is such a beautiful thing. And take, let's say, a group of strangers into this amazing kind of journey. What you're able to do is super cool. And then the work that we do is really interesting and also cool because it's in that moment that people start to discover.
So basically, it's that description that you have of the disruptor because we're not going to do what they think we're going to do. We're not going to do something they've done before. We're really going to take them out of their comfort zone. And so the disruption starts almost from the minute they walk in the room. It's disruptive because it's not what they thought.
Dr. Steve Ralph:
That's the feedback I get and it's all by design because it's—when we have different type of disruptive experiences we really get to a point where we see things differently. As an experience architect, whatever you're doing, whether it be class or workshop, whatever that may be, how are you designing it? And how are you going through the intro, the preps, the experiences and the pacing. And that's why I'm my model I chose the color of red for the disruptive, because that to me symbolizes emotions.
And so when you break out the LEGO or some other type of activity that's disruptive, you get a mix of reactions in the room. Some people are like, oh wow, cool. Some people are like nervous, stressed, and that's why I had that fan there, because as a facilitator you have to be in tune. Because really when you're designing out an experience like that, it can really change the culture in the room, the learning experience, and people leave empowered. That's the joy I find when I'm doing this because I've found, especially in teaching at the university setting, cause I've used LEGO Serious Play across all different types of degrees, and no matter what type of students, whether it be MBA, HR, business, applied analytics, LEGO Serious Play is always a highlight because the students are like they immediately grab the bricks and they're focused. They're so involved. And that's what I love about this tool is you get 100% participation. People are all building. And then people get a chance to share their story. And so people have a place to be heard. That helps foster that trust in that collaboration
Jacquie:
Trust is the outcome. But we're not doing it because we're going to artificially build some kind of trust or harmony. But that can be and often, we know, because we've done it so many times that it is the outcome. But I would never want to start there. I think that you make a really good point. And I know that you also have done tons of corporate work. So I don't want anyone listening to think that you're just in a university because you're also in corporate America as well.
And I think that one of the things that the LEGO bricks give people that I think is unique is the fact that it is a very easy step into the world of creativity because anybody can pick up six or seven bricks, make some little model, and then tell the story about it. And they actually have created that model. They built it, even if it's just two bricks together. They put two bricks together and then they can tell us why they put them together the way they did. And they can tell us a story about what they've put together. So I think from a creativity point of view in comparison to a lot of creative tools, LEGO does have the advantage of it being a very quick step into the creative process.
And it's not just like anything, like I just pick up this, I don't know. I've got a hand here that I got from Ikea. I love this. It's a wooden hand. I just bought it. It's my favorite. I want to go back and buy a few more, but anyway. But let's say this was my thing. And I was going to use this little model of a hand to tell some kind of a story. I can make the fingers do something because it moves. But in most cases I didn't make it. I got like that. But if I take a couple of LEGO bricks and I put them together in something it's completely unique and probably nobody has anything that looks like that. I snapped them together and I made this little thing that then has a story. So I think that LEGO Serious Play is a really nice step into the creative process, which we can do relatively easily. If we want to bring more creativity or more play into that space, whether it's a boardroom or a classroom or an offsite or wherever it is, it's a good way to get people warmed up to the fact that as you said in the beginning of your story, that we are all creative and we all can do it. We don't have to take a course.
Mark Millhone:
I feel more creative just spending this time with you. In some ways I think of creativity as combining disparate things into a new synthesis. And part of what I've heard you asking in this conversation, Jacquie, is how do we make the case for play? And where I've heard you spending some energy, Steve is talking about our disrupted world and the need to create a pause practice. And I wonder if actually there's an opportunity for a kind of a Reese's peanut butter cup. Let's see if I can pull this metaphor off.
Jacquie Lloyd Smith:
Can I be the peanut butter? I could be the chocolate. I'm okay. I'm good with either.
Dr. Steve Ralph:
I love peanut butter.
Jacquie:
Alright,
Mark:
It all works. It's all delicious.
Jacquie:
Mark. Can you do it?
Mark:
I can make that metaphor work in five notes. So the thought that I had was, perhaps this world that we're living in now, which is so highly disrupted. Disruption, it's no longer like an idea on a chalkboard or like a hashtag. There's something which I remember you saying many times, Steve. We need to teach people to be the disruption and not the victim of the disruption. And I think that's where maybe there's an opportunity where, if you have a room of people that aren't bought in and they're feeling uncomfortable, and you can say like, "Hey, do you feel disrupted? This isn't what you really planned to do for your lunch hour? What does that feel like?"
Does it feel like this whole last year of our lives? Maybe this is something we need to get better at because it's not going away. And maybe in that moment, there's like an organic buy-in for the need to engage with the challenge of disruption in a way that is playful, which is fun. I don't know if I stuck the landing, but that was the thought.
Jacquie:
I think that's an interesting point. Somebody said once that human beings hate ambiguity. The brain doesn't like it because it always likes to know what's coming next. It doesn't like that unknown, which is perhaps that disruption, that moment of disruption doesn't like it. Yet at the same time when we live in ambiguity, we have an opportunity for true creativity. So this whole idea of thinking about this last year, which I think is a—I know a lot of people have absolutely hated it, want it to be over. It's been awful. There's been a lot of pain and hurt. I also can imagine there has also been a lot of creativity that's happened this year. I've seen it in my world. And I think that it is around that idea of reframing things that then create opportunities of infinite possibilities.
Dr. Steve Ralph:
Yes. I think one of my favorite quotes is from a professional surfer, Laird Hamilton. Who said we're all equal before a wave. And I love that because to me, that connects to disruption. There's two different types of disruption. There's forced disruption and there's intentional disruption. Forced disruption is what we've experienced—everybody's experience with COVID, right?
When you have things that happen, you had no control of, and they disrupt your life. Or you lost a job or you lose a loved one. Those are forced disruptions. Intentional disruptions are where you feel stuck and you want to change things. But when we have this wave, that crashes, are we going to be crushed by it or are we going to surf? Do we have the tools to pivot? Are we flexible in our thinking to adapt and adjust or are we going to be crushed by it? And it's easy to be crushed by it because we're successful in one way of doing things and something, a forced disruption, happens and it ruins everything that's very disorienting. And I'm sure many of us have had those experiences.
But when we have certain tools or the connections and collaborations and people that we can have those creative sparks with, I think all those things and having a tool kit can help us in an era of constant disruption. So I see LEGO Serious Play as a very powerful method in that. And I think it is disruptive whatever the environment, whether that be in university or corporate.
Jacquie:
Right.
Mark:
You both completely disrupted my day, and I'm utterly grateful for that. You are people that I hope that I can continue to talk with for the rest of my life.
Dr. Steve Ralph:
Likewise.
Mark:
Okay, cool. I do want to respect everyone's time. Any other final thoughts?
Jacquie:
Just thinking about the people that are listening to this podcast. And I think if people have tuned in in the beginning and then listen to this, whether they're driving or working out or just sitting and listening, they probably are also disruptors. That's why they would have been interested in listening to this podcast in the first place. They probably are people that are wondering about how they can be more—maybe more useful or more active or have more of a catalyst for change in their day-to-day life in the work that they're doing.
And cheers to the disruptors. This is one of the reasons why I like both of you guys is that we don't want things to be the same. We don't settle. We don't like status quo and we try not to make too much trouble for the rest of the world, or we do it in a way that's playful and hopefully that people are not mad at us. But these are the people that I like hanging around with are people like Steve Ralph, who are curious enough to want to dive into things and positive enough to say yes to you, Mark, when you're asking him to do stuff and to come on this podcast. I think it's great that you gave us some of your time because I know how busy you are.
Dr. Steve Ralph:
Thank you for having me. This is great. I love talking to you guys, so anytime.
Mark:
My last thought is just the inherent irony of someone as busy as Steve Ralph writing his thesis on pausing.
Dr. Steve Ralph:
We're all a work in progress. I'm constantly having to grow in it.
Jacquie:
Wait now. Before we end, please, Steve Ralph, put in a plug for EPIC.
Dr. Steve Ralph:
Yes. EPIC International Summit. It's scheduled for September 30 through October 2. A lot of amazing speakers and workshops. It's a mix of panels, workshops, experiential activities. On the first night we have a special screening of The Biggest Little Farm, the award-winning documentary. And then we will have an EPIC conversation interview with the director, John Chester, after that.
Jacquie:
And LEGO will be there. We'll have lots of LEGO bricks and be building lots of fun stuff. The Strategic Play team will be showing up.
Dr. Steve Ralph:
Absolutely. Yes. Strategic Play team, LEGO workshops, and I'm very excited to have such a cross-pollination of leaders from various industries there.
Mark:
I'm biased, but if you're listing, this is the disruption you've been looking for. So run don't walk. We'll see you in Santa Barbara.
Dr. Steve Ralph:
Yes, there you go.
Jacquie:
And it's EPIC. If you want to find the link, it is epicsummit.com.
Mark:
And any other ways that people can follow or connect with you, Steve?
Dr. Steve Ralph:
Yes. I'm on LinkedIn, so you can find me on LinkedIn. Also EPIC is obviously where you can find me as well. So epicsummit.com. We're on LinkedIn and Instagram as well.
Jacquie:
And also on strategicplay.com. Steve Ralph is one of our licensed trainers, so you can find his smiling face under who are trainers. And his email address is there too.
Dr. Steve Ralph:
Contact me
Mark:
Thank you, Steve.
Jacquie:
Steve. Was that okay for you?
Dr. Steve Ralph:
Yes. No, I think so. My question to you was that what you guys wanted?
Mark:
It was thoughtful and pithy and vulnerable and disruptive in a positive way for people who need it and nourishing. Yes.
Dr. Steve Ralph:
Okay. All right. Thank you. Have a good day.
Jacquie:
Thanks so much, Steve. Bye
Mark:
I think the takeaway is to really embrace disruption. I think that's something which I resist and he's given me new faith and new confidence to try that. Yes. That's my takeaway.
Jacquie:
Yes, when I think about it, LEGO Serious Play is a disruptor. When we bring LEGO Serious Play into a classroom or a workshop or an offsite, we are immediately disrupting. So anyone who is using LEGO Serious Play probably could see themselves as a disruptor. And thinking about embracing disruption is really a valuable takeaway, especially right now during a period when we probably all feel like our lives have been disrupted. I really love the way that he put that positive kind of thought in our mind about the value of disruption and how we could perhaps embrace it or embrace parts of it.
Yes. So what if we pose a challenge. What do you think, Mark? Can we…
Mark:
Yes. Do it.
Jacquie:
I guess what I would like to say to anyone listening to this, if that conversation made you think and reflect upon what you're disrupting right now or what you'd like to disrupt right now, if you could build a small LEGO model and take a photograph. If you're listening to this podcast in our community site, you can just post it right in the community site with your story. Or if you're listening to it from a website, shoot the story and the photograph to us at hello@strategicplay.com. I would love to just read and see what people are thinking.
And also, we might put them in a newsletter.
Mark:
I love the idea of being able to continue this conversation with the listeners out there and to experience their insights.
Jacquie:
Thank you so much, Mark I look forward to our next conversation about the power of play.
Dr. Steve Ralph:
Is it off?
Mark:
We're still recording. Steve, could you please leave now. Steve, you're really…
Dr. Steve Ralph:
Bye-bye
Jacquie:
Steve Ralph. Report to the principal's office. Steve Ralph.