LEGO® SERIOUS® PLAY Certification Training in USA

| | | | | | |
| --- | --- | --- | --- | --- | --- |
| | | | | | |
| | Come to Chicago Video | | Come to California Video | | Come to Arizona Video |
Get your full certification and registration in the United States with one of our Licensed Trainers.
| | | | | | | |
| --- | --- | --- | --- | --- | --- | --- |
| | | | | | | |
| Greg Bliss | | Dr. Steve Ralph, Jr. | | | Dr. Camilla Jensen | |
Greg, Steve, & Camilla are licensed members of the Strategic Play training team and offer facilitator training in the LEGO® SERIOUS PLAY® methods. These talented trainers are partners with the Strategic Play Group in North America where they play, work, and continue to be supervised by one of the original LEGO® Systems Group LEGO® SERIOUS PLAY® Master Trainers.
---
Greg lives and plays in the creative problem solving and innovation space. He has over 25 years of organizational development experience, with a client list including top companies in the fields of Pharma, Healthcare, Packaged goods, Manufacturing, and Finance. He was trained in improv at Second City and brings that sense of playful exploration to his facilitation.
Contact: strategicplay%23com|greg In Illinois: 1-773-858-8607
---
Dr. Steve Ralph, Jr is passionate about catalyzing ingenuity in those he comes into contact with. He is focused on training, consulting, coaching and producing special events that facilitate creative leadership. As a professor at Pepperdine University's Graziadio Business School, Dr. Ralph teaches courses in creativity and innovation, leadership and team dynamics. Dr. Ralph's professional background has included business development and corporate relations roles in higher education, entertainment, and non-profit industries.
Contact: strategicplay%23com|Dr%23Steve In California: 626-840-2037
---
Dr. Camilla Jensen is a dynamic and engaging facilitator and innovation scholar, who joined us following a career in Industrial Design Engineering. She has dedicated the current phase of her career toward enabling cross-functional teams to work well together while tackling complex problems. Camilla specializes in using LEGO® SERIOUS PLAY® to amplify the creativity and communication of cross-disciplinary teams grappling with complex problems.
Contact: strategicplay%23com|camilla In Arizona: 1-480-262-5482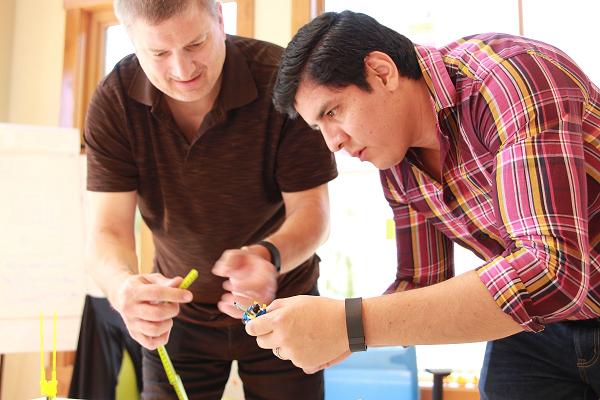 Get your certification in:
And you can always check out the calendar for the next training in your area!