LEGO® SERIOUS PLAY® Methods Training Plan 2018
Certification in LEGO® SERIOUS PLAY® Methods
This map should help you see the different training building blocks and help you to construct the best system when considering which training program will fit best for your individual needs. This training program was developed by one of the original Master Trainers (with the LEGO® Systems Group) along with seasoned professionals and experts in curriculum & instructional design, facilitating, and business fields.
We love to play - but when it comes to our training, we are serious!
Just like building with bricks, you can pick your training to meet your individual needs.
If you have any questions please send us an email: hello@strategicplaytraining.com we are always here to help!
KEY:
Green: This is where everyone starts when they register for our program Strategic Play program.
Orange: Everyone takes this course first, it covers the underpinning principles of the LEGO® SERIOUS PLAY® Methods Program
Blue: After the Orange course, you can choose any one of the blue courses (or take them all if you like)
Yellow: After you take any one of the blue courses you can now take any yellow course
Grey: Under Construction - Our trainers are busy working with our curriculum designer (2018-2019)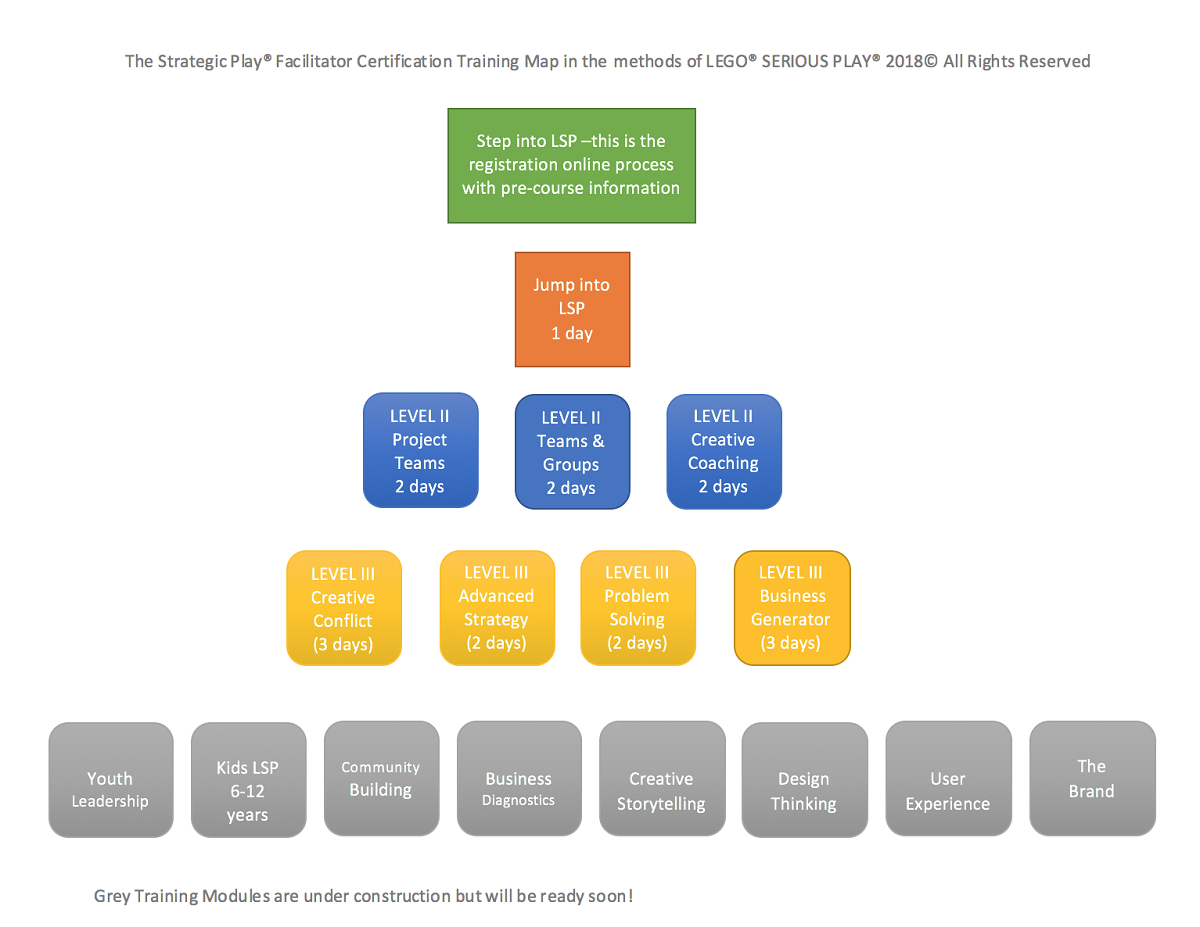 français:
La méthode LEGO® SERIOUS PLAY® Notre programme de formation est une version renouvelés de la méthode originale LEGO® SERIOUS PLAY®, développée par les deux premiers maîtres instructeurs qui ont travaillé pour le groupe LEGO®.
Les membres de notre association LSP encourage l'innovation et cherche à maintenir des formations pertinentes et de haut niveau afin de répondre aux besoins actuels de nos clients.
Cette carte devrait vous aider à voir les différents blocs de formation et vous aider à construire votre programme selon votre préférence Certains de ces cours sont disponibles maintenant - certains (gris), sont en construction, mais seront prêts en 2018-2019.
Si vous avez des questions, envoyez-nous un courriel: hello@strategicplaytraining.com nous sommes toujours là pour vous aider!
Português:
Este mapa deve ajudá-lo a ver os diferentes blocos de treinamento e ajudá-lo a construir o melhor sistema para você, considerando qual programa de treinamento atende melhor as suas necessidades individuais. Este programa foi desenvolvido por um dos Master Trainers originais (com o LEGO® Systems Group) junto com profissionais experientes e especialistas experts em desenvolvimento de currículos & desenho instrucional, facilitação e campos de negócios.
Amamos brincar, mas levamos nossos treinamentos muito a sério.
Certificação em LEGO® SERIOUS PLAY® Methods.
Bem como os bricks de LEGO®, você pode escolher os treinamentos que atendem suas necessidades individuais.
Se você tiver alguma dúvida, favor enviar um e-mail: contactar@strategicplay.com. Estamos sempre aqui para ajudar!
Chave
Verde: Aqui é onde todos começam quando se inscrevem no programa do Strategic Play.
Laranja: Todos completam este curso primeiro, ele cobre os princípios fundamentos do programa LEGO® SERIOUS PLAY® Methods.
Azul: Após o curso Laranja, você pode escolher qualquer um dos cursos azuis (ou fazer todos se preferir)
Amarelo: Após qualquer um dos cursos azuis você pode fazer qualquer curso amarelo
Cinza: Em Construção- Nossos trainers estão trabalhando muito com nosso designer de currículos (2018-2019)