LEGO® SERIOUS PLAY® Methods Training Plan 2018
Certification in LEGO® SERIOUS PLAY® Methods
This map should help you see the different training building blocks and help you to construct the best system when considering which training program will fit best for your individual needs. This training program was developed by one of the original Master Trainers (with the LEGO® Systems Group) along with seasoned professionals and experts in curriculum & instructional design, facilitating, and business fields.
We love to play - but when it comes to our training, we are serious!
Just like building with bricks, you can pick your training to meet your individual needs.
If you have any questions please send us an email: hello@strategicplaytraining.com we are always here to help!
KEY:
Green: This is where everyone starts when they register for our program Strategic Play program.
Orange: Everyone takes this course first, it covers the underpinning principles of the LEGO® SERIOUS PLAY® Methods Program
Blue: After the Orange course, you can choose any one of the blue courses (or take them all if you like)
Yellow: After you take any one of the blue courses you can now take any yellow course
Grey: Under Construction - Our trainers are busy working with our curriculum designer (2018-2019)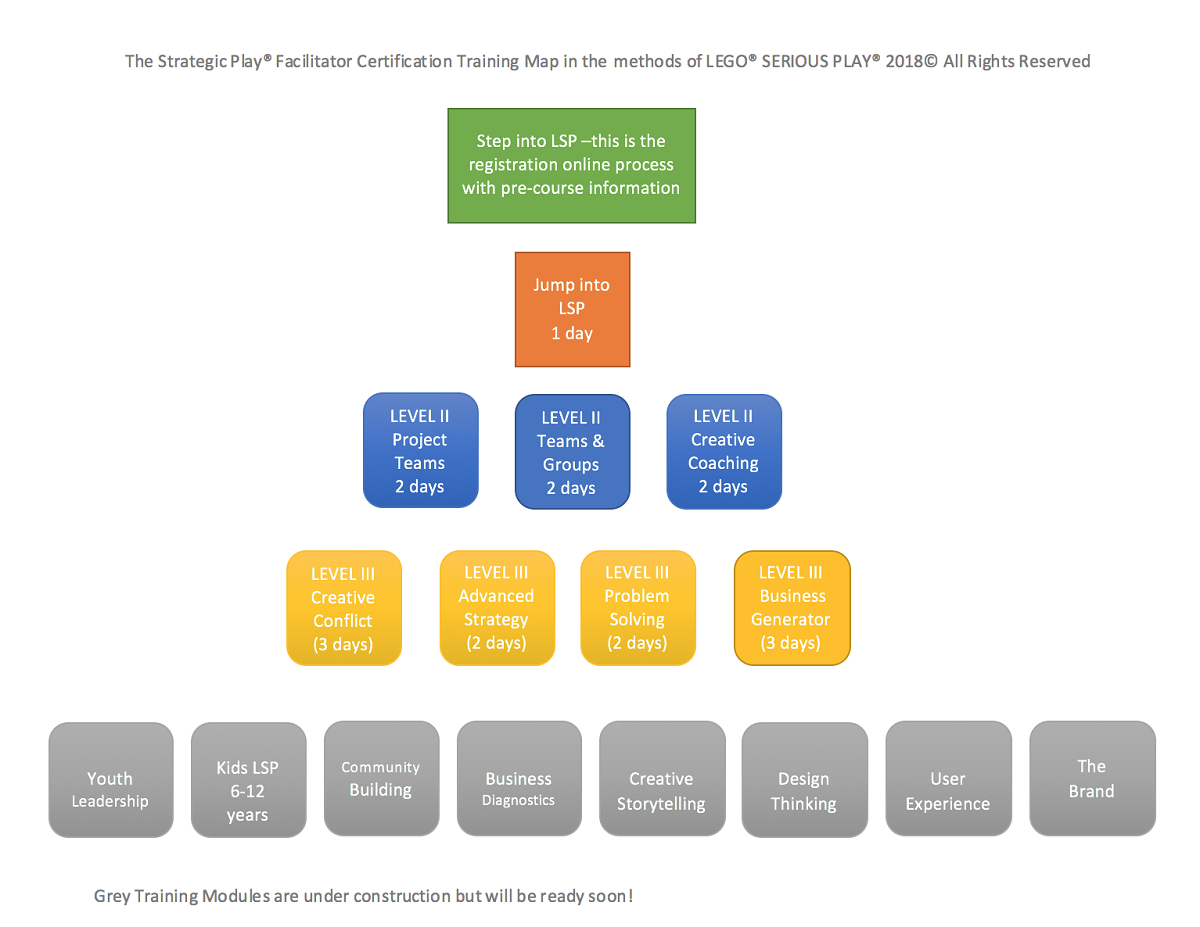 La méthode LEGO® SERIOUS PLAY® Notre programme de formation est une version renouvelés de la méthode originale LEGO® SERIOUS PLAY®, développée par les deux premiers maîtres instructeurs qui ont travaillé pour le groupe LEGO®.
Les membres de notre association LSP encourage l'innovation et cherche à maintenir des formations pertinentes et de haut niveau afin de répondre aux besoins actuels de nos clients.
Cette carte devrait vous aider à voir les différents blocs de formation et vous aider à construire votre programme selon votre préférence Certains de ces cours sont disponibles maintenant - certains (gris), sont en construction, mais seront prêts en 2018-2019.
Si vous avez des questions, envoyez-nous un courriel: hello@strategicplaytraining.com nous sommes toujours là pour vous aider!