LEGO® SERIOUS PLAY® Methods Facilitator Training and Certification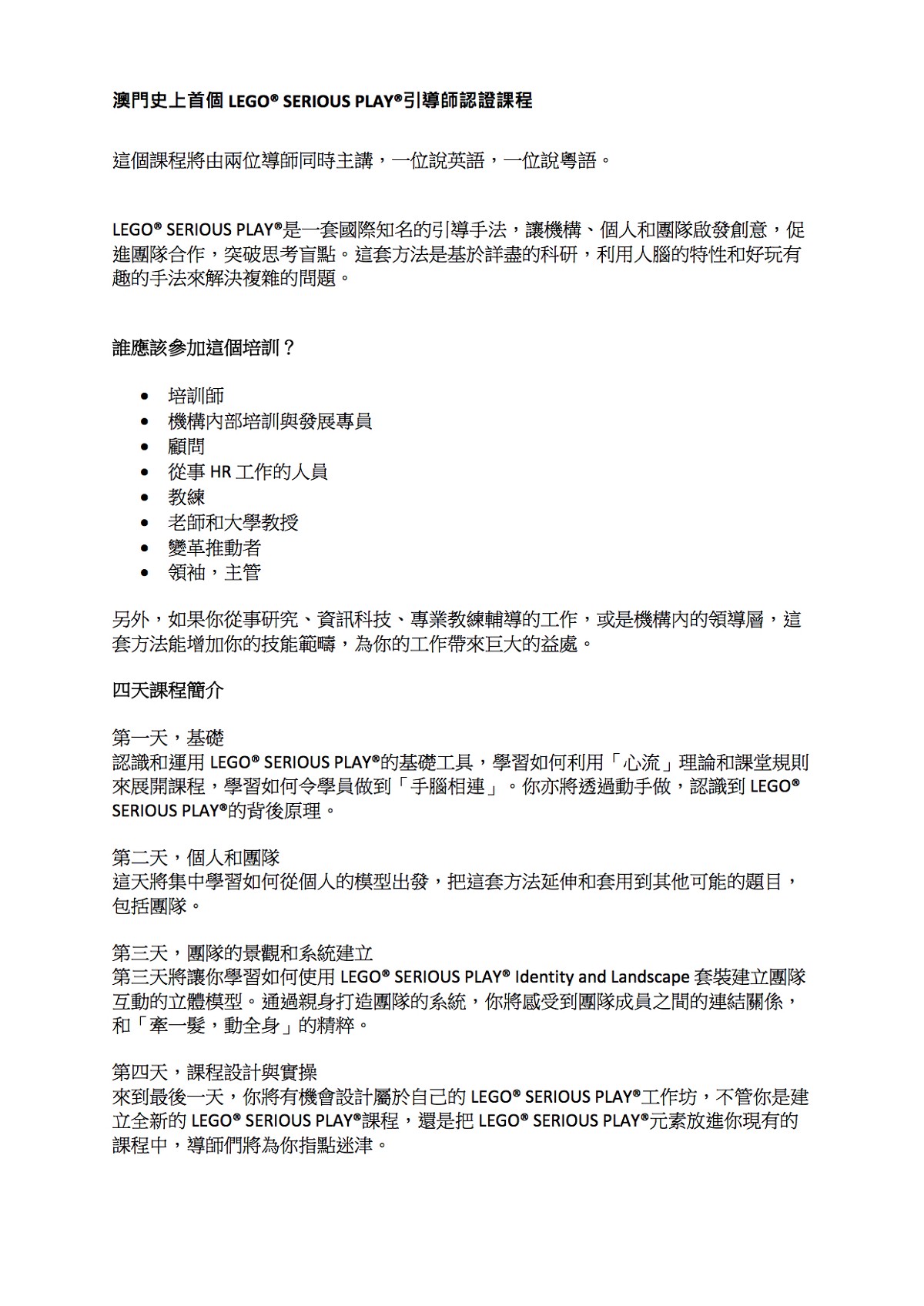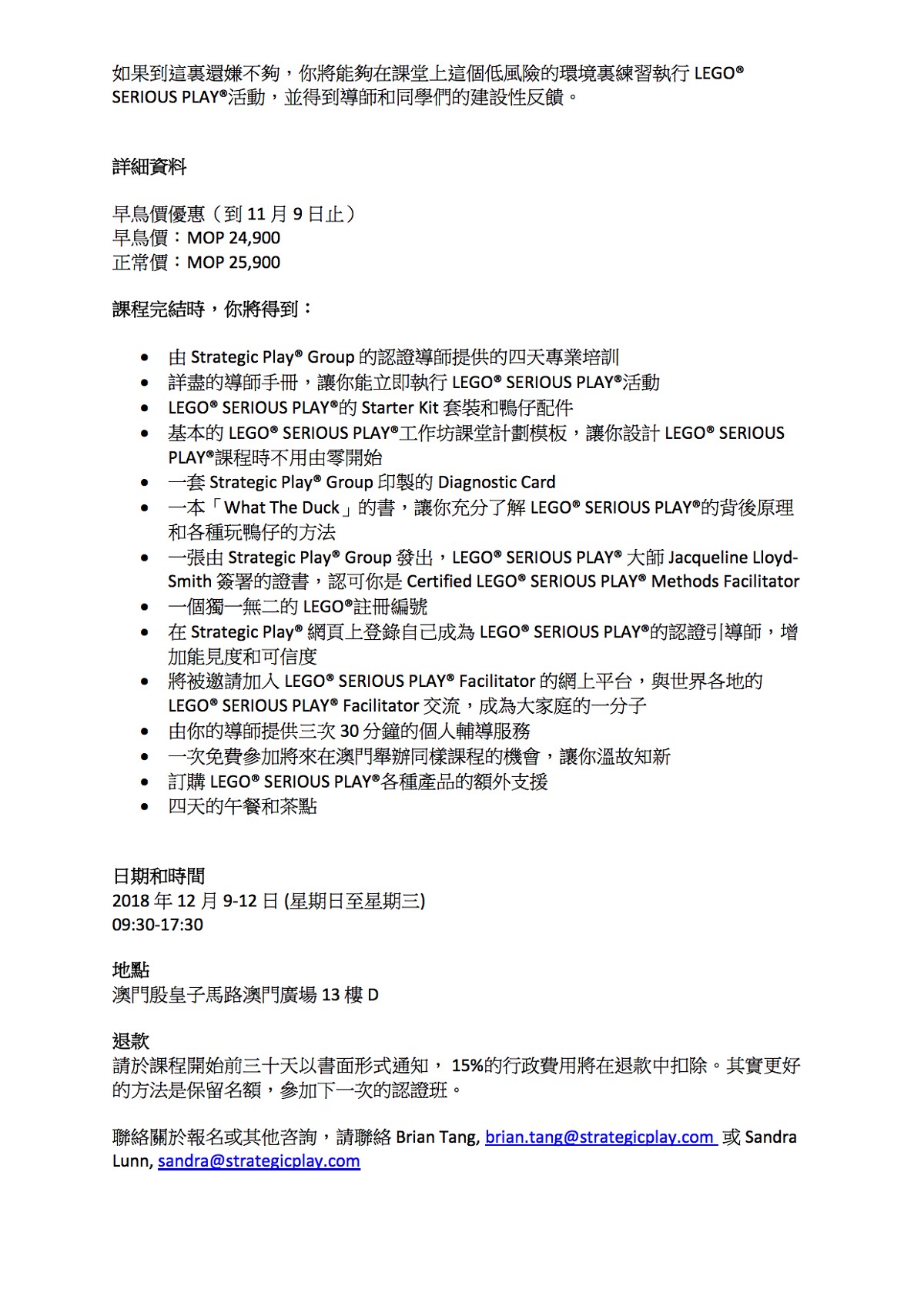 ---
Our first ever LEGO® SERIOUS PLAY® Methods Facilitator Certification in Macau!
This training is in English with an English facilitator and a Cantonese co-facilitator.
LEGO® SERIOUS PLAY® is an internationally-renowned facilitated process used by organizations to engage participants to generate innovative ideas for organizational improvement. The methodology is based on extensive research and enables teams to address complex issues in a fun and engaging way.
Who should attend?
Trainers and facilitators
In-house training and development professionals
Consultants
HR professionals
Coaches
Teachers and university professors
Change managers
Team leaders
Additionally, if you work as a researcher, I.T. professional, executive/life coach, or leader in your organization, your certification in this methodology can bring enormous benefits and is a strong addition to your toolkit of techniques.
4-DAY PROGRAM OVERVIEW

Day One: Foundation Program
Jump into the basics on the first program. This training day introduces you to the LEGO® SERIOUS PLAY® tool. You will learn how to use the tools within a setting including flow theory, the use of ground rules to set the playing field, etiquette and traps to avoid along with numerous applications for different situations to prep the hand-brain connection. Background theory is provided with hands-on learning.

Day Two: Teams and Groups
The second day moves participants through processes where individual identity is explored and insight gained into how the tools can be customized for any number of workshops or processes including team workshops.

Day Three: Landscape and Systems Development for Teams and Groups
The third day of the training will provide you with an understanding of how to use LEGO® SERIOUS PLAY® identity and landscape materials kit to build 3D models that illustrate the complex environments where entities like teams and projects and other interconnected systems function and how these environments "play out" in real time.
Day Four: Master Class Workshop Design and Practice
Day four, our final day, gives you an opportunity to develop your own roadmaps for workshops you want to deliver. These roadmaps can be for new LEGO® SERIOUS PLAY® workshops or to customize current programs you currently deliver to incorporate LEGO® SERIOUS PLAY®. We'll show you how to do both.
As if you haven't had enough fun already, the last part of this program lets you practice your facilitation skills in a safe environment. You will receive feedback from your colleagues and a Certified Licensed LEGO® SERIOUS PLAY® Methods facilitator.
PRACTICAL INFORMATION
EARLY BIRD TICKETS AVAILABLE NOW (until 9 November)
Early bird ticket: 24900 MOP
Regular ticket: 25900 MOP
What is included in your ticket?
4-day training delivered by Licensed Trainers of the Strategic Play

® Group

Your facilitator manual with step-by-step guidelines to deliver your

LEGO® SERIOUS PLAY® workshop

Your starter kit of

LEGO® SERIOUS PLAY® bricks including your own duck bricks

Roadmaps to get you started developing your own LSP workshops
1 deck of

diagnostic cards

1 copy of the "What the duck" book
Your certificate stating that you are a Certified LEGO® SERIOUS PLAY® Methods Facilitator, issued by Strategic Play

® Group and signed by Global Master Trainer, Jacqueline Lloyd-Smith

A unique LEGO® registration number
Exclusive access to register as a graduated practitioner on the Strategic Play

® website

Exclusive access to the global LSP facilitator community network where you could mingle and share best practices of LSP with facilitators around the world
Three 30

-minute personal coaching sessions with your Licensed LSP trainers

Attend one future Facilitator workshop in Macau, free of charge. Review and sharpen your skills!
Additional information and support in ordering

LEGO® SERIOUS PLAY® products and diagnostic cards

Lunch and refreshments
DATE AND TIME
Sun, 9 Dec 2018 - Wed, 12 Dec 2018
9:30am – 5:30pm
LOCATION
Macau Square, 13th floor, room D.
43-53 Av. do Infante Dom Henrique, Macau
REFUND POLICY
Please let us know 30 days before the event and with written notice. If you can't attend, a full refund will be applied less a 15% administration fee. Or you can reschedule to a future workshop.
MORE INFORMATION
Contact Sandra Lunn at

strategicplay%23com|sandra

for enrolment or additional information.