Strategic Storytelling with LEGO® SERIOUS PLAY® Methods
| | |
| --- | --- |
| | -Create impactful stories in 3D to improve internal leadership and external brand communications & strategies! A perfect tool for researchers, product and service developers and those working with brands! |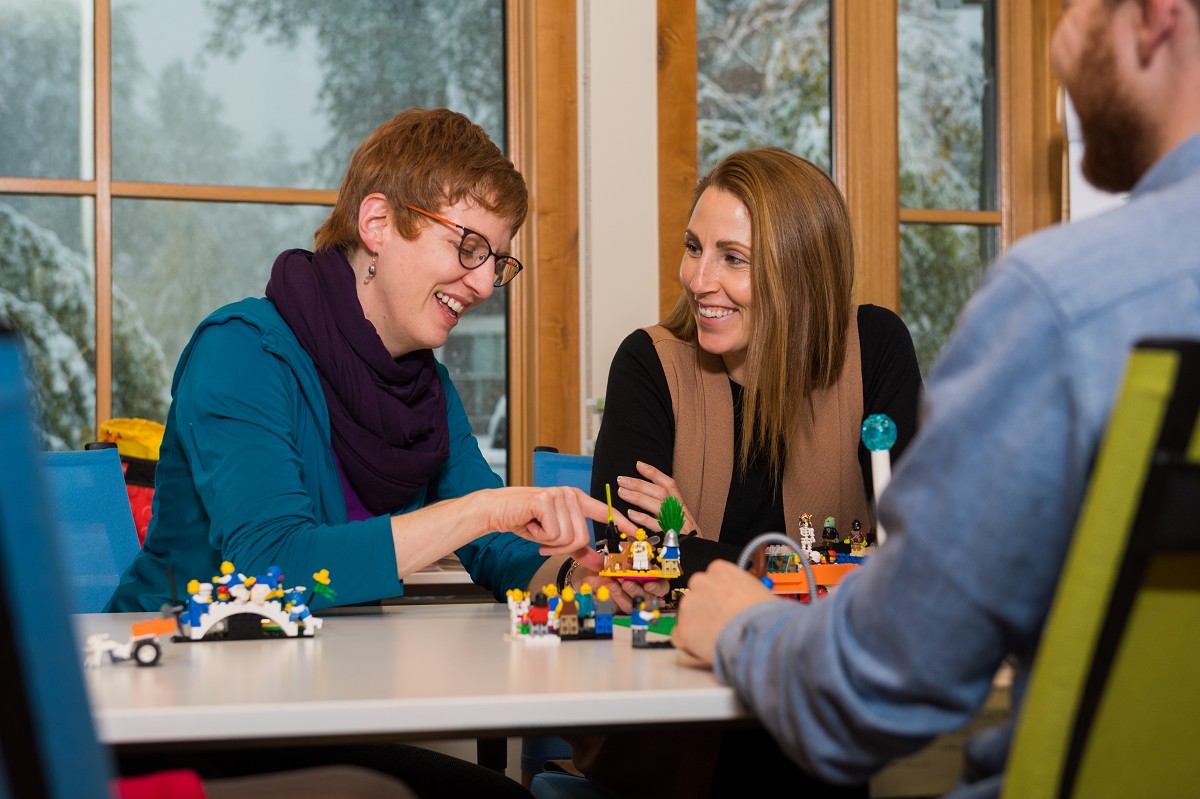 Innovation Storybuilding to Enable Surprisingly Obvious Idea Expression - LEGO® SERIOUS PLAY® Methods
Prerequisite: None
This course has been developed specifically to certify facilitators who want to utilize LEGO® SERIOUS PLAY® methods to dig deeper into the powerful process of creating impactful stories in 3D. A well-constructed story ignites change. We are out to transform the world through play and it is through play that people create the most powerful stories. A good story is memorable because it inspires the listener to create their own movie in their head as they listen. The brain fires, releasing chemicals that result in thinking and behavioral changes that drive results. If you are working with leaders you likely want to help them to inspire followers. If you are working with organizations or communities, you might want to help them improve their communication strategy. If you work with business owners, they might be looking to you to help them attach a better story to their brand message.
Everyone tells stories to communicate. Why not work in 3D to ensure important stories are well told?
This course is a deep dive into the neuroscience of storytelling, story-making, and story-listening, and unpacks the reasons why the LEGO® SERIOUS PLAY® methods are so powerful when applied to things like the brand or product or company story. Get ready to use this powerful methodology for story-building to enable surprisingly obvious idea expression.
We will cover:
Intro to Neuroscience: Your brain on bricks (the powerful process of storytelling in 3D)
Micro bite learning for keynotes, demonstrations, short sessions, and enhanced skill-building
The Making of Strategic Stories and working with story structure
The heroes journey and other archetypes
Building stories for:

Knowledge transfer
Leadership development
Organizational development
Business development
Community development
Sales and marketing
Branding and communication strategies and more!
"Research shows our brains are not hard-wired to understand logic or retain facts for very long. Our brains are wired to understand and retain stories. A story is a journey that moves the listener; and when the listener goes on that journey, they feel different and the result is persuasion and sometimes action."
This fast-paced certification course will provide you with new tools and techniques to use as stand-alone sessions or to add to your existing program.
You will get:
A full-color manual
Certification in Strategic Storytelling with LEGO® SERIOUS PLAY® Methods
Hand-outs for opening activities to use with large and/or small groups
Half-Day and Full-Day workshop programs that you can take and customize for your industry
A deck of our storytelling cards with 'naked branding' to use with this unique program & book full of activities
Access to our online learning community
Where can I contact the organizer with any questions?
Complete your registration & certification requirements under a Licensed Master Trainer!

Strategic Play® Group Ltd. training has been approved by the
Global Federation of LSP Master Trainers
Email Us: We will respond within 24 hours!
North America Toll-Free: 1-888-238-2608
Globally: +1-604-972-0107