SERIOUS PLAY® Methods: What the Duck! Facilitator Training
Pre-requisite: Open enrollment because this is a short course that shows you how you can do more with less (just 6 LEGO® bricks required)

Building ducks and playing with a professor from Golden Gate University - San Francisco, CA, USA
LEGO SERIOUS PLAY® methods: "What the Duck!".
This is our one of our newest ONE DAY training program!
Are you looking for some fun activities you can do with just a handful of bricks? Like most teachers, trainers, coaches, and counsellors you are likely being asked to do more with less. If so, this is the perfect training program for you. You might be working with a classroom full of students, a large group of people at a conference, or a small group, board of directors, or group of executives. Regardless, we have the activities you need to keep people engaged, communicating, and learning while time flies by.
So, what's with the duck metaphor?
We make use of the 6 LEGO® bricks that constitute a duck. This fast-moving, interactive training will take you by surprise as you see the power of the hand-brain connection and the diversity of thinking styles!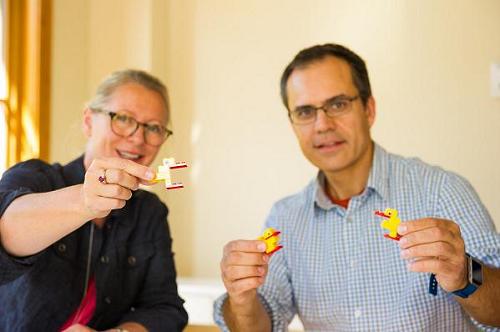 Building LEGO ducks in Whistler, British Columbia, Canada
Using some of these interactive tools, participants enter the state of flow. This is the state psychologist Mihaly Csikszentmihalyi refers to where we are in the zone. When we are in flow, our concentration increases, we think faster, and we learn at accelerated levels.
If you want to make a real splash, you can help flow occur more easily by using these tools. The greater the sense and feeling of flow, the greater the likelihood of accomplishment and correlated improved performance.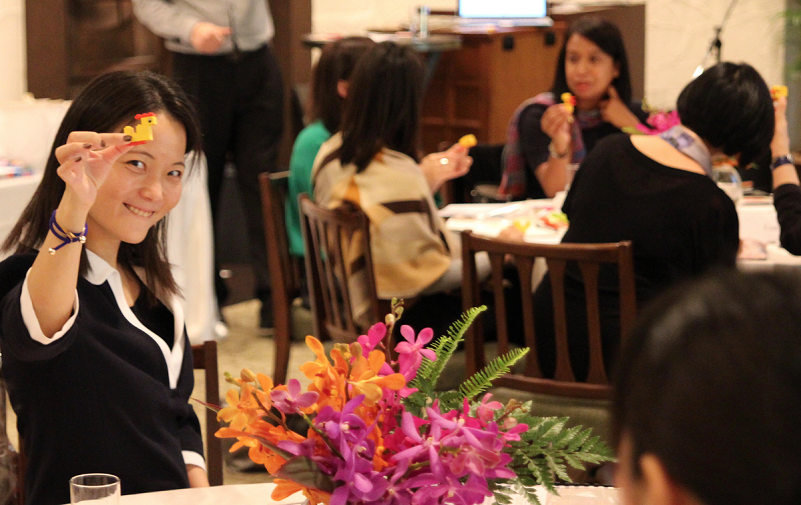 Building LEGO® ducks in Japan - with store managers of a top luxury brand!
This makes for a great activity to get started, and it is low budget too. All you need are some simple LEGO® bricks. It is amazing what you can do with just six. The true power of the process is the incredible ways in which the tool can be adapted and modified to deliver your outcome and results. Here are a few examples:
Facilitators / Coach: This is a great way to introduce the power of diversity of thinking and improve communication.
Teachers/trainers: You can incorporate micro bites of playful learning to make your content stick and increase innovative thinking through storytelling and language development.
Counsellors: You can tackle issues like listening, remembering, focusing, deferral of judgement, and you can explore options.
Organizational Developers and Human Resource Professionals: This is a great tool for opening up onboarding sessions or meetings.
These are just some of things you can do with this flexible, powerful tool, but really, it's endless!
The small number of bricks enables you to use 3D thinking tools and take advantage of four stages of play:
Sensory and tactile
Storytelling and/or roleplaying with prototypes
Making and building with 3D artifacts that hold complex information
Games with rules, to test scenarios and to change patterns of thinking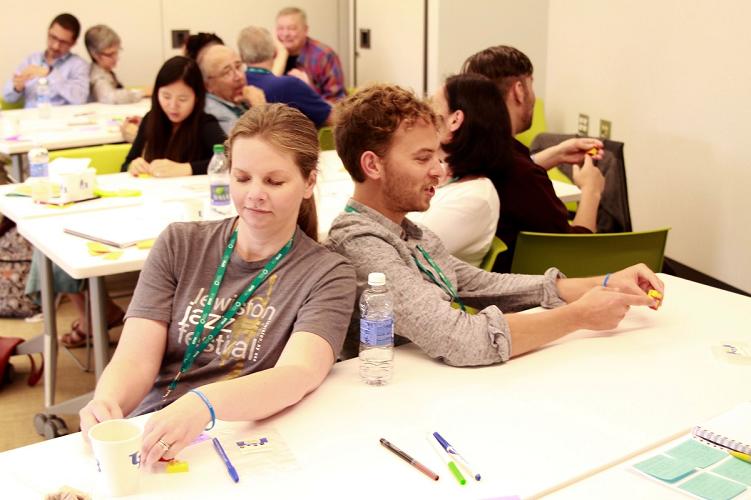 Building LEGO ducks in a training program a the University at Buffalo!
And this is what is so incredible: Simply by starting to introduce a few activities into your group, classroom, meetings, or discussions, you can change the dynamics, open neural pathways, and facilitate greater insights.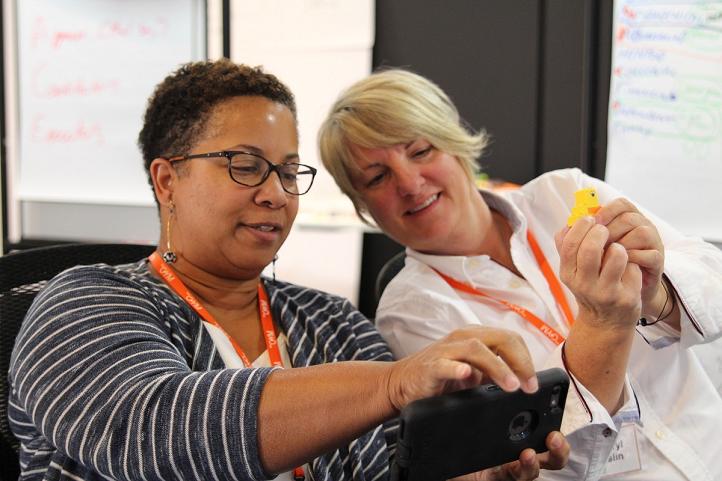 Building ducks at the GYM - Innovation center at P & G - USA
What is included in the training? Lots!
Your training book full of activities
Handouts for planning and customizing programs
A sample set of duck bricks
Lunch and refreshments
Your individual diversity of thinking assessment
An assortment of LEGO® bricks for other bonus activities
Your certification, signed by a Master Trainer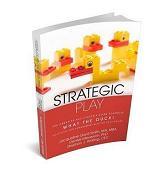 Or call us: 1-888-238-2608
And yes, we can bring the bricks and come to your location too! Call us to hear how: 1-888-238-2608
Building ducks at Royal Roads University in Victoria, BC, Canada