LEGOcy Succession Planning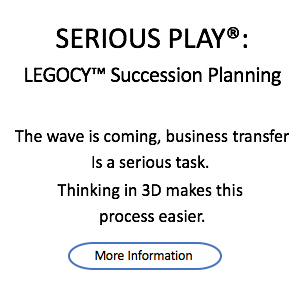 There is going to be the biggest transfer of wealth happening in North America as the wave of traditionalists move on and the baby boomers retire. Companies that were started in the 60's, 70's and 80's can't just wait and pray, they need to think strategically about the next generation. In fact, all businesses including startups need to think about succession in order to get the maximum value for their hard work and effort.
This course has been developed to provide LEGO® SERIOUS PLAY® facilitators will the tools they need to address this next wave.
Right now our succession planning experts are hard at work developing the program with our curriculum designers.