To learn more about our high-energy events, email us: hello@stategicplay.com
or
Call 1-888-238-2608
or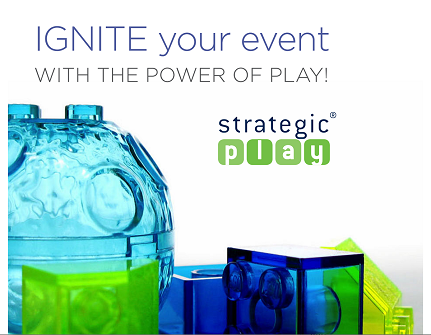 Here are some of the LEGO® SERIOUS PLAY® Methods events we have facilitated:
Grow Conference 2014: Living in a connected world, Whistler, BC, Canada

LEGO® SERIOUS PLAY® methods were used at elevation 2180 m. Here we worked to help people make real connections at the GROW Conference in Whistler. LSP is a facilitated thinking & communications technique. It draws on extensive research from the field of business, organization development, psychology, and learning. Using hand- brain knowledge this 3D process helped participants explore ideas and make real life connections.
United Nations Workshop: New York City, NY, USA
On September 19 and 20, 2013, members of the North American Strategicplay® Group were on-site in New York City for the United Nations Leadership Summit. You may have already heard that LEGO® presented the United Nations with a large LEGO® UN Model to thank the UN Secretary-General for his work in the area of education for children. We facilitated three areas of discussion:
Education reform
Care for the environnment
Human rights
Clinton Global Initiative for Social Change: New York City, NY, USA
Developing 21st Century Workers: The Call for Education Reform
On May 6, 2013, Strategicplay® and members of LEGO® Education and The LEGO® Foundation facilitated a problem-solving session at the Clinton Initiative for Social Change.
http://www.clintonfoundation.org/main/our-work/by-initiative/clinton-global-initiative/about.html.
We were invited to lead a discussion with a large group of leaders in order to spur commitments to action. We accomplished this task by using LEGO® SERIOUS PLAY® methodology and materials. Those who attended are committed to making changes and to building upon the Three Rs: reading, writing, and arithmetic. Attendees recognized the need to find ways to add creative problem solving, collaboration, communication, and creativity into the core of the education system. This will better prepare current students to be workers in the future.
CMC Vancouver Event: Management Consultants Play with LEGO®, Vancouver, BC, Canada
On November 26, 2014, 30 participants filled Tacit Management Consulting's office and experienced why Fortune 500 companies and non-profit organizations are playing with LEGO® bricks in their board rooms. The StrategicPlay team facilitated the workshop, presenting case studies on how strategic play increases ROI and improves service offerings, and engaged the participants in a variety of activities.
Each participant received a bag of special LEGO® bricks and a challenge to add more play with meaning into their meetings.
City of Surrey's Crime Reduction Strategy, Surrey, BC. Canada
We were approached to work with multi-stakeholder groups to assess a number of questions regarding their impressions of how the strategy was working. Using Strategicplay® tools like 3D thinking with LEGO® Serious Play®, Gamestorming techniques, live music, and graphic charts, we identified the areas that needed more energy, generated ideas of how we could move the agenda forward, and created action and implementation plans. The areas they selected from were:
Neighborhood Engagement Literacy
Drug and Alcohol
Gangs
Children, Youth and Families Justice
F-You: The Forgiveness Project, Toronto, ON. Canada
On April 15, 2013, we celebrated Leonardo da Vinci's birthday as the city of Toronto kicked off World Creativity Week with LEGO® SERIOUS PLAY®.
The back story: In 2012, while speaking at a large creativity conference, in Buffalo NY, we meet a lady by the name of Linda Salna. Linda asked if the Strategic Play Group might be interested in coming to Toronto to help launch the activities to celebrate Leonardo's birthday. We agreed, based on the condition we be given a "messy problem" to solve. So Linda went to work looking for a city-wide issue. She sent out requests for problems, asking people what they wanted solving, what could make Toronto a better place to live, work, and play in. The proposals for large multi-partner stakeholder engagements came pouring in one after another, requesting help for excellent causes. StrategicPlay facilitators selected a project called "F-You: The Forgiveness Project". We selected this project because it applies everyone. It has no borders, ages, religion, culture, or demographic, although the movement was started by young people aged 19-32. The concept affects everyone.
| | |
| --- | --- |
| | |
| | |