Jump into LEGO® SERIOUS PLAY® methods
Strategic Play® delivers LEGO® SERIOUS PLAY® methods under the creative commons license held by the LEGO® Systems Group. LEGO® SERIOUS PLAY® is an internationally-renowned facilitated process used by organizations to engage participants to generate innovative ideas for organizational improvement.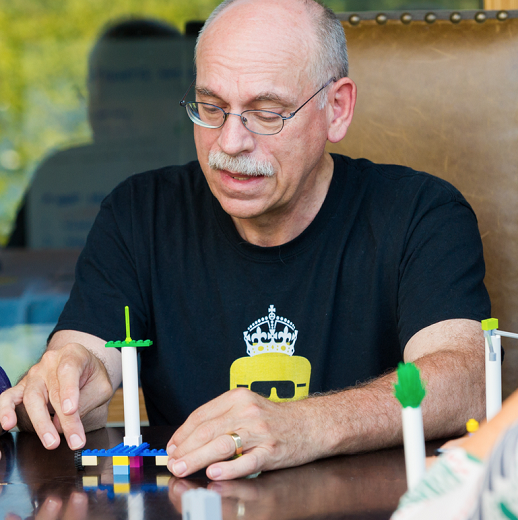 This one-day training has been developed specifically for those curious about the process of
LEGO® SERIOUS PLAY® methods and want to sample the training.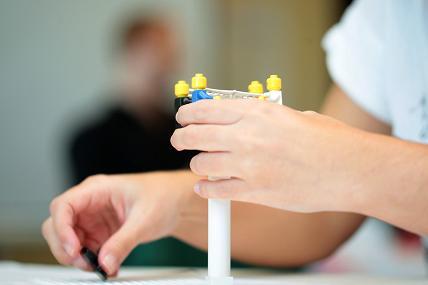 Of course, this is not the full complete training - think of it as a "pink spoon" at the ice cream shop. However, lucky you, we have designed it to not only give you a taste of the tool but to provide you with some new methods and materials to add to your toolkit.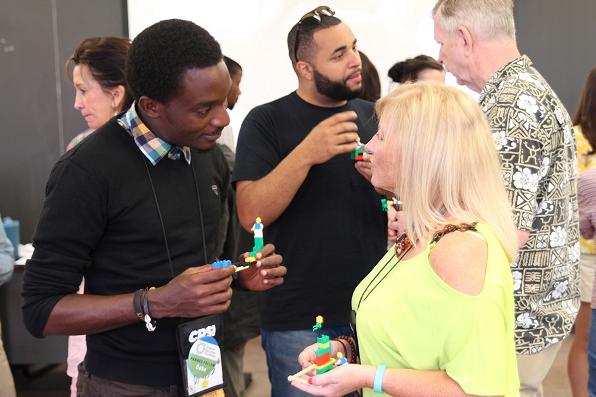 Not only is this fun, it actually works well with adults of all ages, within all demographics, and across all cultures. It's a powerful tool ready for you to implement. If you are searching for a new approach to help your clients express themselves in a creative, kinesthetic, auditory, and visual way, this training will fit the bill.
You will leave this workshop with:
1. Your own set of special LEGO® bricks to run your first mini session with 6 people
2. Handouts and printed materials
3. A basic understanding of the methodology designed by the LEGO® Systems Group in Denmark along with the underpinning of the methodology and the fame works and theory behind it all
4. Ready to go activities that you can use anywhere within your existing approach
5. A document showing your participation hours for your CEC or to be used toward full certificate training with Strategic Play Group Ltd.
6. A great book that every creative facilitator should have!
You will be trained by a Master Trainer!
When is the next training? Well, check out our schedule right here! CLICK NOW
Or call us for an introduction to the methods:
1-888-238-2608
Espanol:
Strategic Play® utiliza el método LEGO® SERIOUS PLAY® bajo la licencia abierta propiedad de LEGO® Systems Group. LEGO® SERIOUS PLAY® es un proceso reconocido mundialmente, utilizado por organizaciones para lograr que los empleados generen ideas innovadoras para la mejora organizacional.
Este entrenamiento de un día ha sido desarrollado específicamente para aquellos que tienen curiosidad sobre el proceso de LEGO® SERIOUS PLAY® y quieren una prueba del entrenamiento.
Claramente este no es el entrenamiento completo. Sin embargo, para suerte tuya, lo hemos diseñado de tal manera que no solamente te lleves una muestra de la herramienta sino también un nuevo método y nuevos materiales para agregar a tu caja de herramientas.
No solamente es una herramienta divertida, sino que funciona con adultos de todas la edades, dentro de cualquier grupo demográfico y a en todas las culturas. Es una herramienta poderosa y lista para que la implementes. Si estás buscando una nueva forma de ayudar a tus clientes a expresarse de forma creativa, kinestésica, auditiva y visual, este es el entrenamiento que estás buscando.
Saldrás de este entrenamiento con:
1.- Tu propio set especial de ladrillos LEGO® para realizar tu propia sesión con 6 personas.
2.- Material impreso y folletos.
3.- Entendimiento básico de la metodología diseñada por LEGO® Systems Group en Dinamarca además del marco de trabajo y la teoría detrás de la misma.
4.- Actividades listas para ser utilizadas en el área de trabajo que gustes.
5.- Un documento mostrando tus horas de participación que posteriormente contarán para tu certificación completa con Strategic Play Group Ltd.
6.- Un libro que todo facilitador creativo debe tener!
Serás entrenado por un Capacitador Certificado
strategicplay%23com|Gabriel or strategicplay%23com|Rosa (Espanol)
Francais:
la méthodologie LEGO® SERIOUS PLAY® Strategic Play® offre les méthodes LEGO® SERIOUS PLAY® sous la licence Creative Commons de LEGO® Systems Group. LEGO® SERIOUS PLAY® est un processus de facilitation, de renommée internationale, utilisé par les organisations pour engager les participants à générer des idées novatrices et l'amélioration organisationnelle.
Si vous avez des questions, envoyez-nous un courriel: hello@strategicplaytraining.com nous sommes toujours là pour vous aider! strategicplay%23ca|sebastien